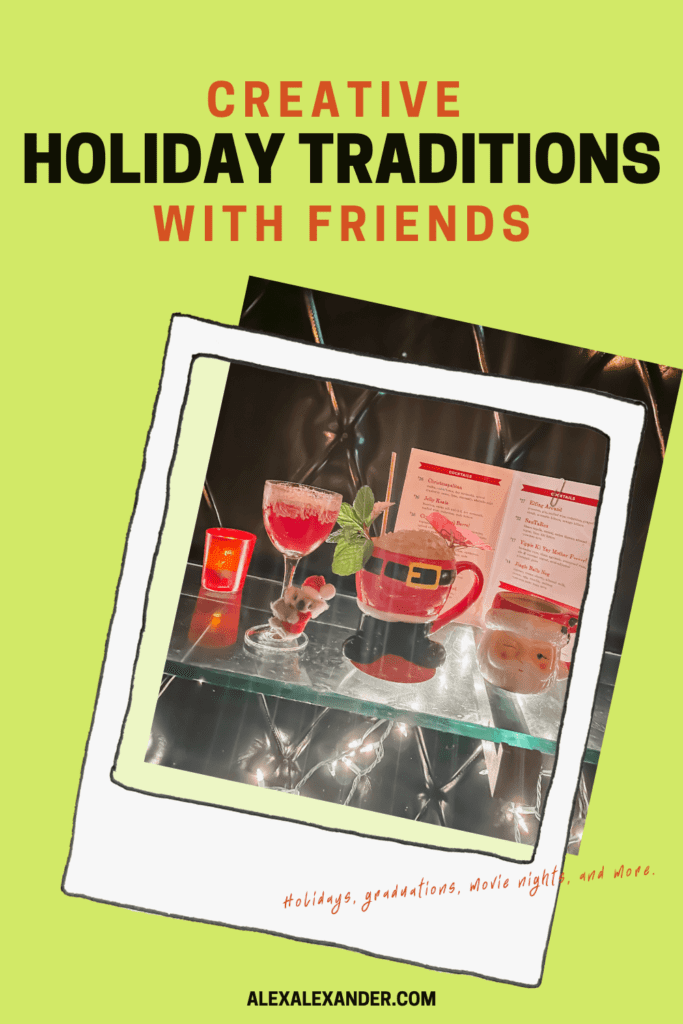 Are you looking for new ways to spend time with friends this holiday season?
Are holiday parties and Christmas cards feeling stale?
Overwhelmed by the pressure to buy gifts for friends?
Today, I want to dive into ways to spend time with friends during the holiday season. I don't enjoy many things about the holiday season: the pressure, the hustle, and the never-ending to-do list.
The season's magic can get lost in all the "shoulds," which is why we can forget all the shoulds for this article.
HOSTING A PARTY INVOLVES
6 ROLES.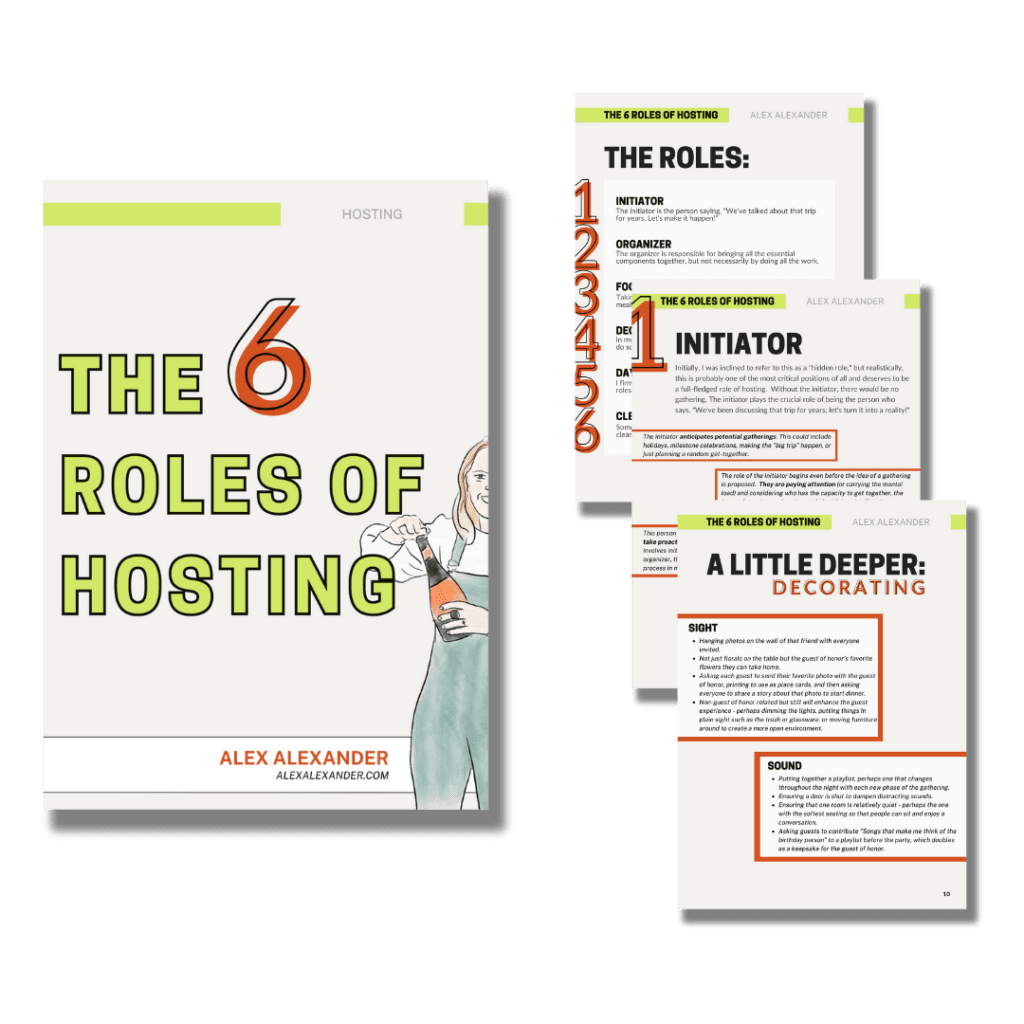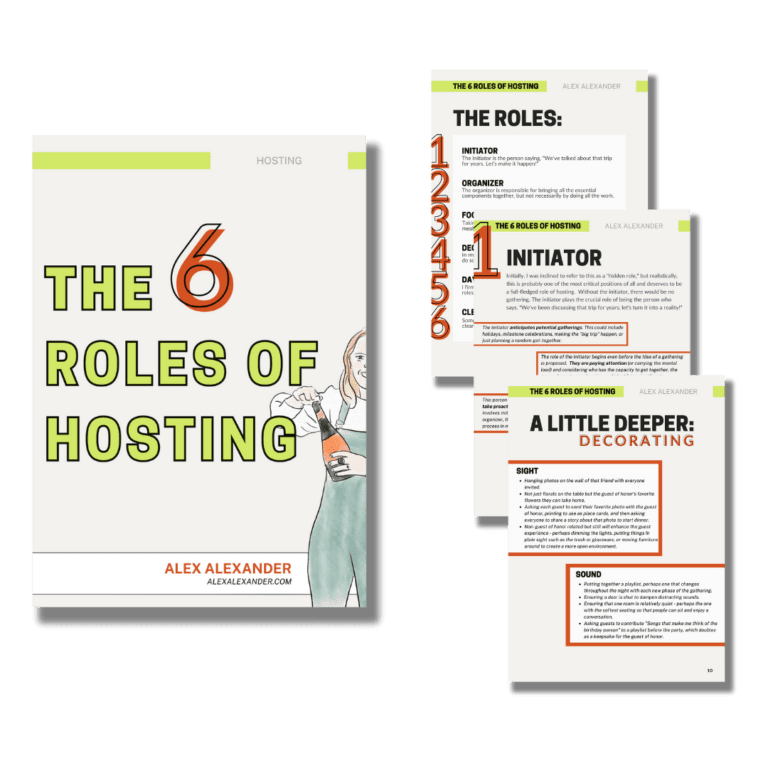 stop doing it all.
Start hosting with ease.
Create more connection with your friends and family at your next gathering using the tips in this guide. Learn how to delegate the 6 roles of hosting and feel confident in your ability to throw a successful, stress-free gathering.
Everyone celebrates differently, which is a beautiful thing
I grew up repeating the same traditions for the holiday season. I saw A Christmas Carole with my grandma, visited the gingerbread houses at the Seattle Sheraton, took photos with Santa at the downtown Seattle Nordstrom, spent Christmas Eve with my mom's family, and Christmas Day with my dad's family.
There is something special about holiday traditions and activities.
But I also appreciate seeing new ways to celebrate, creating new traditions, and learning about other people's beliefs.
Our friends give us a look at how other families celebrate during the holiday season.

Think about it – going to a friend's house for dinner for the first time, you realize:
Families eat at different times
Some families sit at the dining table, others at the kitchen counter
Other families eat different foods or buy different brands
Your family says grace; your friend's family starts asking each person to share the best part of their day
Our friends give us windows into different ways to live.
I need to write a much longer blog post about that sentiment someday. *Adds it to the list.*
Good news… I recorded a podcast episode instead! Listen now.
Spending time with friends during the holiday season is a great way to experience or learn about various traditions, holiday activities, and beliefs.
Friends who celebrate the same holidays and friends who celebrate different holidays have something to offer.
If you share the same holidays with a friend, you can hear their favorite holiday traditions, foods, or beliefs. You might even grow up and look back on their traditions and decide to incorporate those into your own celebrations.
If you have friends who celebrate different holidays, what a gift to learn about other holidays firsthand, rather than reading a book or, let's be honest, an Instagram caption. Ask about their celebrations, traditions, and the stories behind the holidays. Ask for a time or way to try some of their favorite holiday foods. Send them a message on holiday wishing them well (if that is appropriate).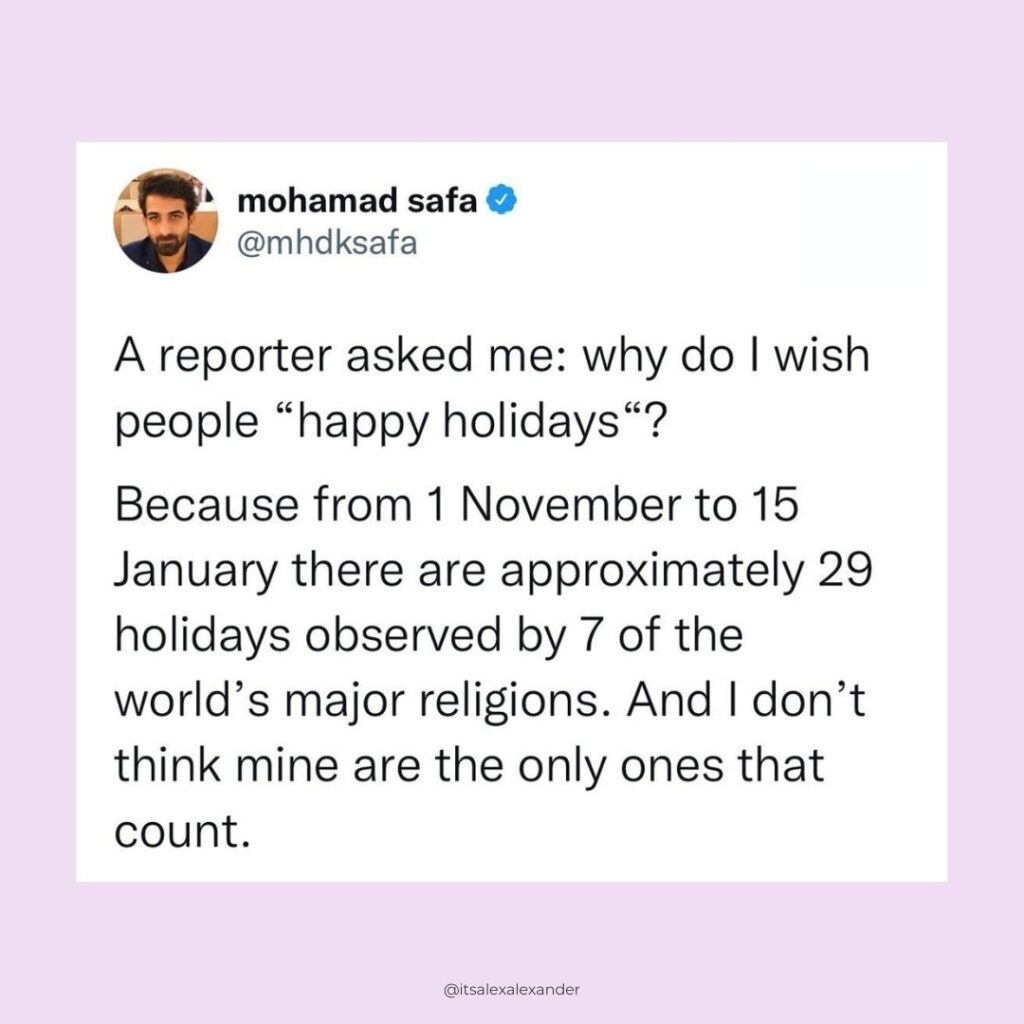 Many people want to incorporate gatherings and celebrations with friends into their holiday season, but I hear the same frustration repeatedly — "I don't have time."
This, honestly, is one of the most significant objections I hear about friendship in general, so this won't be the last time I talk about time.
Finding the time
I get it.
The Holiday season can get busy.
Too busy.
Party invites, office get-togethers, kid's parties, friend's parties, cleaning, cooking, shopping, wrapping, actually getting together on the holidays, throw travel in there too, and this sounds like madness.
If you are thinking, "Alex, I don't have time to plan some holiday party for friends. My schedule is already jam-packed. I am just hoping I make it to January 2nd. I don't even have time to wrap the presents I need to buy, let alone whatever you are about to suggest about spending time with friends."
Stick with me here. Pour yourself something festive and read on. I promise it will have you thinking differently about spending time with your people this holiday season.
1: Let's get intentional.
The first way to make time for friends this holiday season– cut the clutter.
The holiday season is jam-packed with "shoulds."
Buying presents.
Attending parties.
Sending holiday cards.
Decorating.
… the list is about 1000 items long, but I will stop here.
Spend the next couple of minutes pretending there are no shoulds.
Instead, consider the questions below and how you can use your answers to prioritize what matters most to you this holiday season.
Are there people you will be sad you didn't connect with this holiday season?
What holiday activities are you excited about?
What holiday activities do you dislike/dread?
Are there traditions that feel stale?
Can you simplify traditions? Can you opt-out but let everyone else enjoy? Do you think everyone would prefer to rethink or cancel that tradition?
What do you need this holiday season?

Some ideas: fun, cozy, tradition, quality time, quiet time, excitement

If you have kiddos, ask, "what does my family need this holiday season" or perhaps, if your kids are old enough, ask and let them answer.

What are they most excited about?
What are their favorite holiday traditions?
Holiday activities they are excited about?
Holiday traditions their friends have that they think are cool? (Yes. I went there).
I can't tell you what matters, but here are some things that matter to me and, therefore, the intentions I use to make decisions during the holidays.
Experiences over gifts
Quality Time
Connecting with the kiddos in my life and adding to the magic where I can
Finding ways to spend cozy time together with the people I love
Have some FUN! I love getting dressed up once or twice.
Going to the parties but leaving early enough not to ruin my next day (Also read as "I am in my 30s").
Cooking some holiday things and sharing them with friends
Keep things as easy as possible. Easy =Fewer barriers and objections = friends like they can make it even with a busy schedule.
Perhaps it's not that we are too busy, but instead that we are too busy doing the things that we don't enjoy. You can find the time if you stop spinning your wheels with all the "shoulds" and instead fill your calendar with activities that bring you and your family joy.
Time is slipping through our hands as we continue to follow the same patterns, just for the sake of following the patterns.
Where can you simplify, rethink, cut, add, and adjust instead of repeating the same-old-same-old?
Strategy 2: What if there is a third answer?
YES or NO are not your only options.
Consider a third option.
For example, your company holiday party invite is sitting in your inbox.
You are conflicted. You don't want to go. You'd rather spend that night with your kids/dog/partner/friends/family/knitting club, but on the other hand, you would like to get together with co-workers and celebrate the holidays.
YES OR NO?
Perhaps, a third option.
You ask close co-workers if they'd like to get happy hour this month instead. Maybe you tell them to "make it festive" however they'd like.
Get creative. Offer alternatives. They might not always work out, but it's worth a try to spend time with friends.
Strategy 3: Create Traditions
Traditions are the backbone of the holiday season. We repeat the same traditions repeatedly, sometimes without thinking about why we are doing them.
Check in on your traditions.
Traditions don't work forever. Some traditions might have an ending point or a pause point.
For example, your childhood traditions might need to end now that you are an adult. Perhaps you create new traditions, and if you have kids, those childhood traditions can also come back, or they might get a rework and be a different version.
Let traditions save you time.
Once a tradition is established, there should be less planning. You don't need to find time to get together or send out a doodle poll to choose this year's holiday adventure. You might even create a rotation of who is planning or hosting each year.
If you are still overwhelmed with the planning, check in on why that is.
Traditions are dependable.
Once you've picked a date for your annual holiday movie night, friends can plan accordingly. If a friend has a conflict, they have to decide which to attend, but there is no need for the group to replan. However, if a friend can't attend this year, they know there will likely be a movie night next year.
Finally, here are ways to plan a tradition: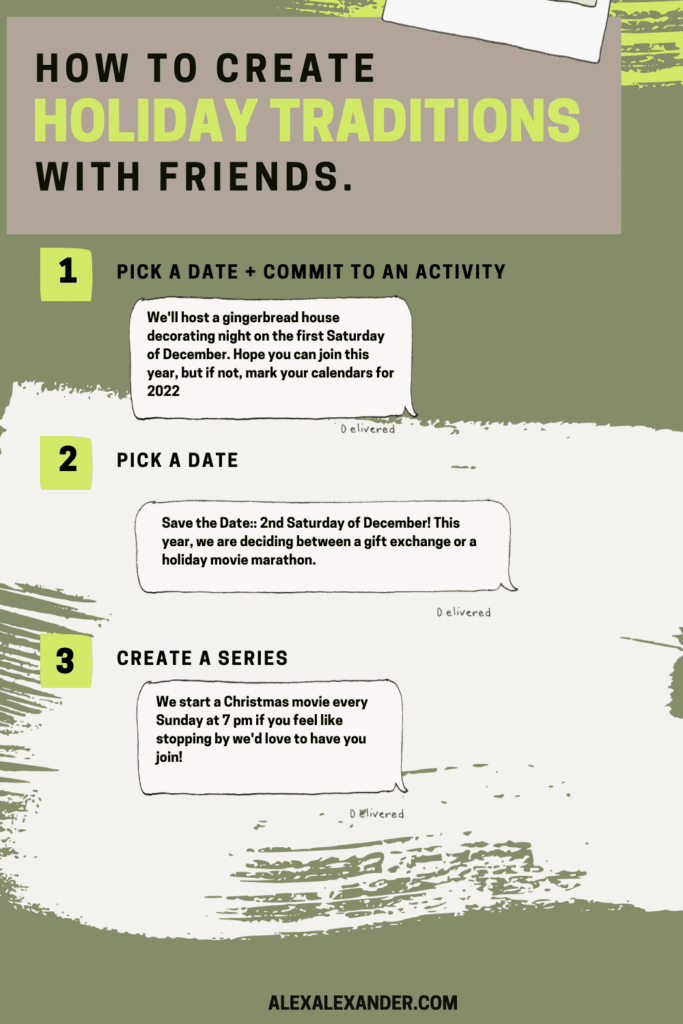 Strategy 4: "Double Up"
Look at your to-do list, then decide, "What to-dos would be better with a friend?"
It's easy to default to your partner, sibling, or best friend when it comes to everydat tasks, but I like to think outside the box.
Make a shopping date with a friend or group of friends. I guess this is one way to stop yourself from procrastinating your holiday shopping.
Plan a wrapping night. Everyone brings their laundry baskets full of presents, paper + ribbons to share.
Friends love to cook + live far away? Share your favorite holiday recipes in a group text. Everyone will have new recipe ideas and maybe even knock meal planning off their to-do list. You can all send photos, ask questions, update each other on any #pinterestfails, or give credit to your friend when Great-Aunt-Ev proclaims that this year's cheesecake is the best she's ever had.
Looking to give back this holiday season + heard of some friends who also want to give more this holiday season? Join forces with friends to adopt a family, volunteer as a group at a food drive, or serve a youth center meal instead of throwing another holiday party.
Hosting a party involves 6 roles.
Stop doing it all.
Start hosting with ease.
Strategy 5: Stick to "your things" this holiday season
When you enjoy the ways you are showing up, you are more likely to show up — yes, it's as simple as that.
Let go of how you "should" spend time with friends and instead connect in whatever ways feel right.
What do you like to do? How can you share that with friends?
Love to Cook? Plan a cookie exchange. Invite friends over for dinner. Share favorite holiday recipes.
Always looking for an excuse to host? Throw a party. Offer to be the house for the cookie exchange.
Not into going out? Invite friends over for a movie night — sweatpants only.
Self-proclaimed "Best Gift Giver"? Send out a text asking if anyone needs help with ideas.
Love movies? Share a list of Must-Watch Holiday movies.
Always have friends asking about your holiday decor? Share this year's finds in a text thread.
Excited about Holiday Sports? Make some fun bets for the Thanksgiving Day games. Bet for bragging rights, $.50, or go big and bet $5. It's just about the opportunity to connect. Everyone can text throughout the day about the games, the bets, the score, that wild play in the third quarter, and that random prop bet about a balloon flying away in the Macy's day parade.
Strategy 6: Do Less
Rethink the ways you've always done things.
Plan a holiday party, but festive pajamas only (and yes, you can still do this as a full-fledged adult).
Opt out of giving friends gifts this year; instead, donate to a charity and tell your friends which one you picked and why.
Split up the hosting duties. Someone cooks, another person provides the space, a friend decorates, another coordinates, and perhaps a few even help clean up at the end.
Instead of a big holiday party, host a movie night: less decorating, clean-up, and cooking.
Simplify, simplify, simplify.
Let your holiday intentions be your guide.
Will those extra decorations matter when your intention is to spend quality time together?
Will a big gift exchange party be any more fun than a movie night?
PODCAST EPISODE! Listen to "Five Ways to Connect to Friends this Holiday Season." Go give it a listen now!
Alex, wrap it up!
The holiday season is all about connecting with loved ones, which stretches far beyond family gatherings and the work holiday party.
Remove the barriers. There are so many "shoulds" that are stopping you from using your time in ways that are meaningful to you and creating memories with those you love.