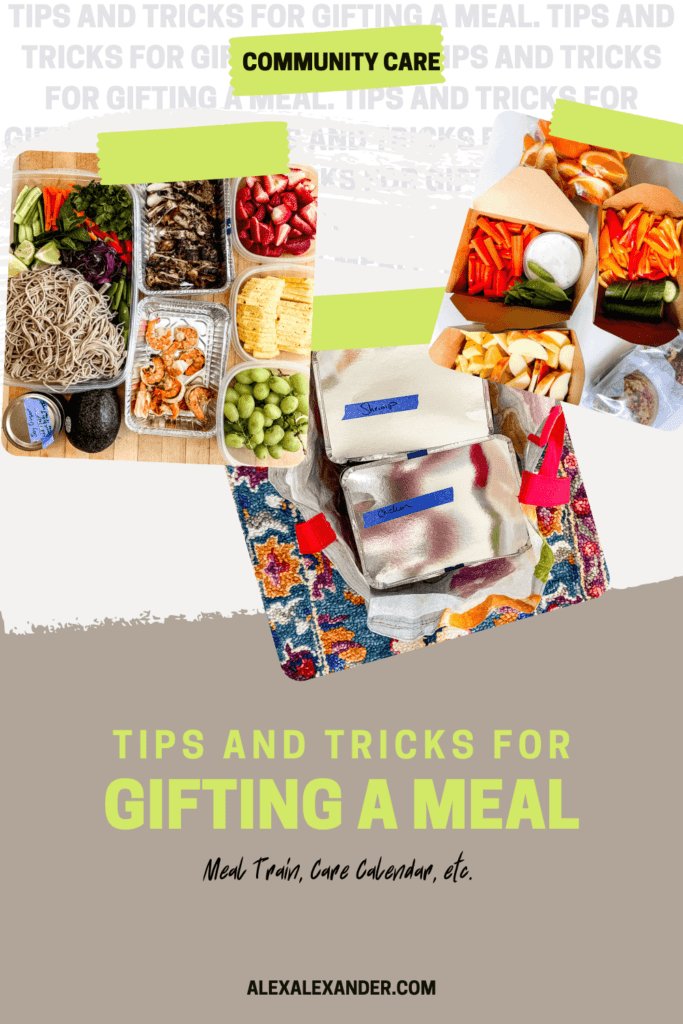 Let's talk meal train etiquette – Gifting someone a meal can be a very meaningful way to care for a loved one during a hard or transitionary time. It can alleviate stress but can also quickly become a headache for the person receiving the meal.
Why? Your loved one is struggling. A minor inconvenience for your average person can become a significant headache for someone already hanging on by a thread.
There are all sorts of moments in life where a family member, friend, acquaintance, or person in our formal communities needs a helping hand:
New Baby | Death | Illness | Divorce | Move | Recovering from surgery | Adoption | Job Hardship
Before I dive into my guide on meal train etiquette –
Llet me tell you a personal story about the impact a meal train can have.
My mom passed away when I was 13, my sister was 5, and my brother was 3. As you can imagine, my dad was far past his capacity taking care of three kids while also grieving. Looking back, I am sure my Dad didn't have to cook for months.
Friends and family offered meals, freezer meals, grocery delivery, and probably all sorts of other support I was too dazed to recognize.
My dad's world had turned upside down. He was already struggling with the day-to-day of single parenting, and this support truly kept him going. This wasn't just nice – it was necessary.
Don't like to cook?
A family acquaintance must have bought out Costco. They stocked our house with frozen pizzas, lasagna, burritos, pre-made salads, and packaged snacks that lasted months.
It wasn't about the quantity – it was about the thought. They just appeared with the material items to take a massive mental burden off my Dad for an extended period of time.
I can picture them knocking on the door and telling us they had a car full of groceries for us – my dad in a daze helping them unload.
Small actions add up.
It's not until you've experienced being on the receiving end that you understand the impact – which is a shame because most of us go a chunk of our life stopping ourselves from helping others for fear that it "isn't enough" or "I don't know the right way."
Let's talk about ways to show up.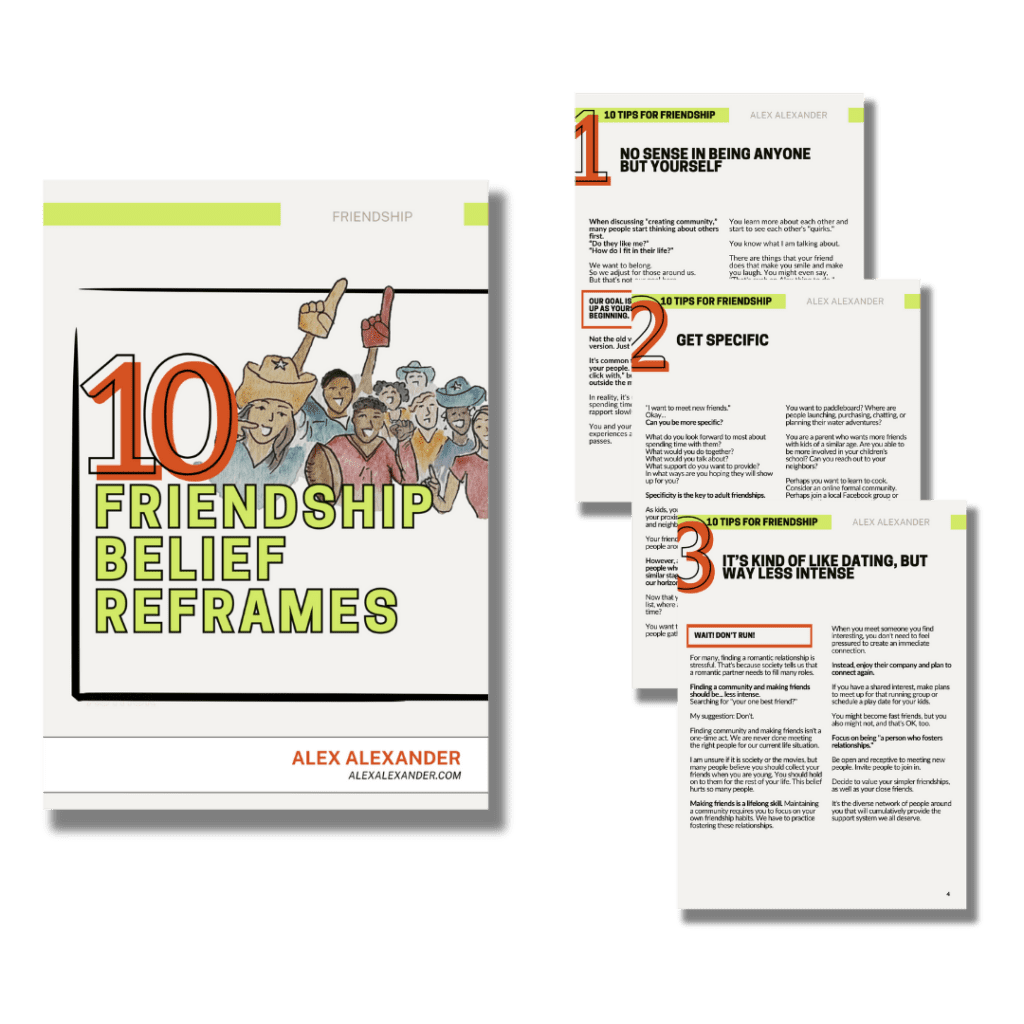 I AM GIVING AWAY MY SECRETS TO
BETTER FRIENDSHIPS.
Reinvigorate your friendships and learn how to create stronger ones by incorporating my Top Friendship Reframes into your life. BONUS! An exclusive look at my upcoming book. Want to bring more purpose and value to the relationships that matter to you? Download the guide now.
Want to help, but food isn't really your thing?
Find YOUR path of least resistance.
By that, I mean – stop doing what you feel like you should do, what society tells you to do, or what you've seen other people show up.
Showing up in ways that you enjoy AND are your strengths.
Why?
You show up and give a better end product.
You show up because you aren't wasting energy and time dreading the task.
If you aren't good at cooking or don't enjoy cooking – the end product isn't going to be that great and it's going to suck the energy out of your life.
Energy is precious, so here I am telling you that my first guidance regarding meal train etiquette is – DON'T COOK A MEAL IF YOU DON'T WANT TO.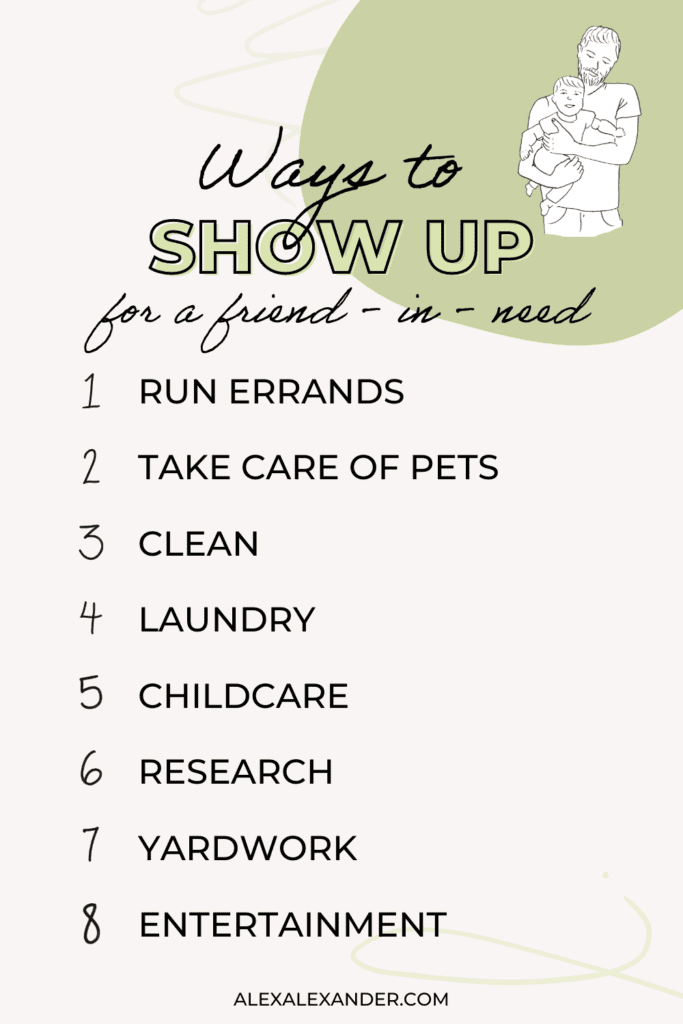 There are endless ways to show up that don't include food.
What are your strengths and what do you enjoy?
Running errands | Pets | Cleaning | Laundry | Childcare | Research | Entertainment | Yard work | Grocery Shopping
"Hey! I know you have a meal train around, but I was wondering if you could use help with some errands. Most weeks I go to target, the grocery store, and the post office. I could add in a couple of other locations."
"I thought I'd stop by this weekend and mow your lawn. Let me know if there is a time that isn't ok to drop by."
"I'd be happy to pick up your laundry and return it to you all clean and folded."
"Is there a night this week I can come to grab your oldest two kids? I'll just feed them dinner and return them to you before bedtime."
PODCAST EPISODE! I talk about showing up for your people in my episode How to Navigate Big Life Changes. Listen here!
You want to bring food…
but are overwhelmed by cooking a full meal.
The path of least resistance might be helping in ways that seem simpler, but sometimes the simplest ways might be the most impactful.
Not to mention, we so often stop ourselves from showing up because "it's not enough." However, the little things add up quickly. Haven't we all seen a "contribute what you can fundraiser" where people add $0.50, $1, $5, and suddenly the final total is tens of thousands of dollars?
If you are showing up for someone that isn't your closest friend, maybe you don't invest a full Saturday cooking for them, but you can give 30 minutes. If everyone gave 30 minutes, the receiving person or family would have a much broader variety of support, AND no one person would burn out being that person/family's sole support system.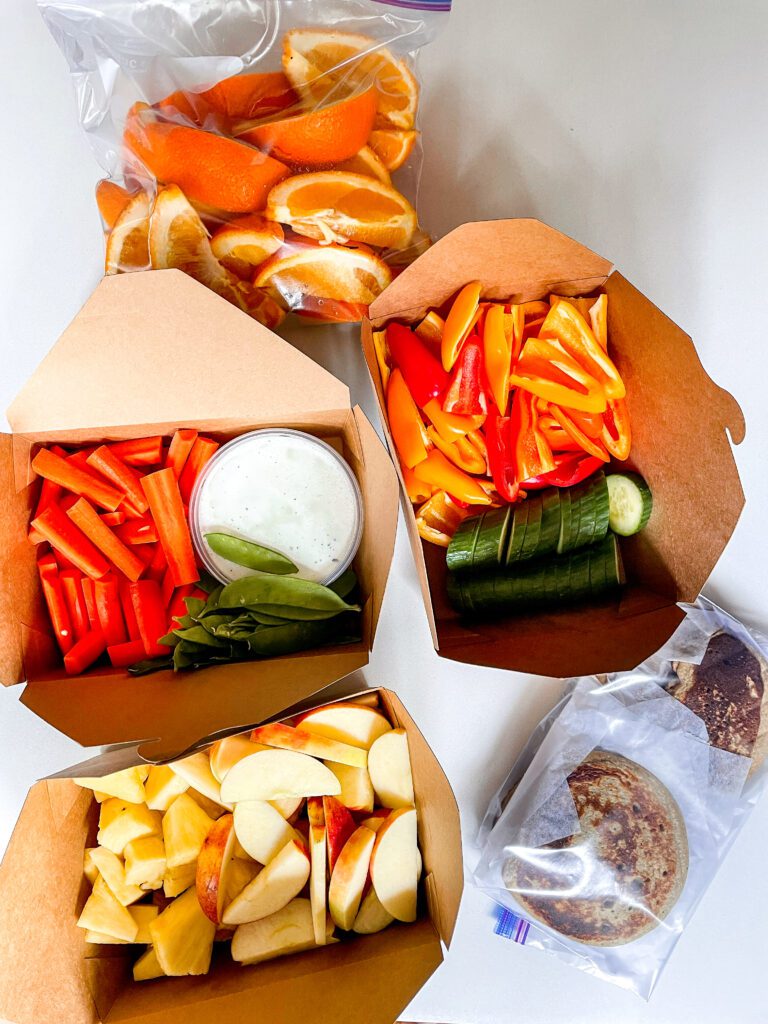 Bring cut fruit + vegetables.
This is one of my favorites! Cut all the produce into grab-and-go pieces- Wash, peel, chop, and section.
Some ideas: Pineapple | Apples | Oranges | Berries | Grapes | Carrots | Peas | Cucumbers | Brocolli | Cauliflower | Roasted Squash |
Drop off drinks or dessert.
Bring something FUN!
Yes, people need basic nourishing meals but don't underestimate the morale boost a treat can bring to a hard time. Whether store-bought or homemade, everyone loves a pint of ice cream, dozen cookies, or a few cupcakes.
Drinks are another item that isn't commonly included. Drop by their favorite cold brew coffee, creamer, soda, sparkling water, etc.
Drop off their favorites.
Does your friend have a daily coffee order? Perhaps they are housebound at the moment, or it's too much effort to pack a newborn up every morning. Deliver their coffee order to their front door.
Pick up their favorite candy, snacks, or pleasures and deliver them to them.
Offer to drive out of the way and pick up their favorite takeout, baked goods, or treats. Maybe it's a trip just for the goods, or maybe you can integrate it into some errand you already have to run.
.
You want to bring food…
but live far away or are too busy to cook.
Send Takeout
Don't shy away from the gift of takeout. Everyone loves the ability to order precisely what they want.
One option is to ask your friends (with a few days notice) to send you the following:
Their address (if you don't have it)
Their preferred restaurant + Order
Their preferred delivery time.
Go ahead and order and then tell them when the order will be expected.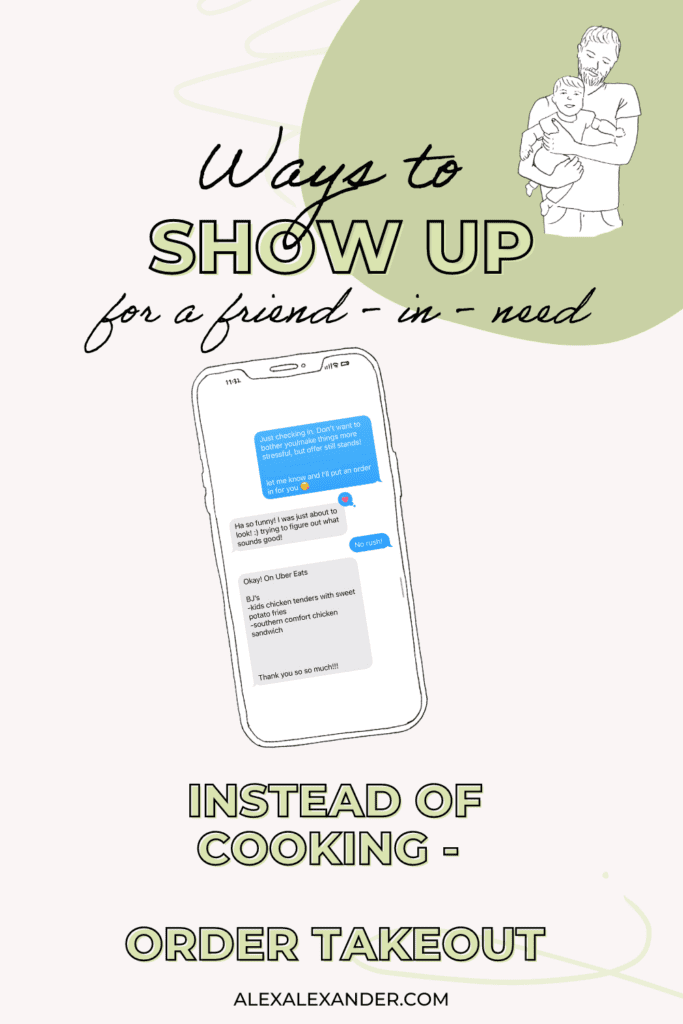 Gift a gift card.
Now, I know some people have feelings about gifting a gift card. HOWEVER, a gift card offers flexibility to the person or family. If there is a night that they thought they could manage dinner but then needed a last-minute dinner solution.
Order or deliver store-bought prepped produce.
If you don't want to wash and chop, buy those pre-cut packs from the grocery store or have them delivered through Instacart or Prime.
Pool together funds.
Reach out to other far-away friends to send them gift cards for food delivery or meal prep services. This is also a great idea if co-workers look to pool money together for a gift.
Some ideas: Uber Eats, DoorDash, Postmates
Meal Prep Services: Hello Fresh, Sunbasket, Daily Harvest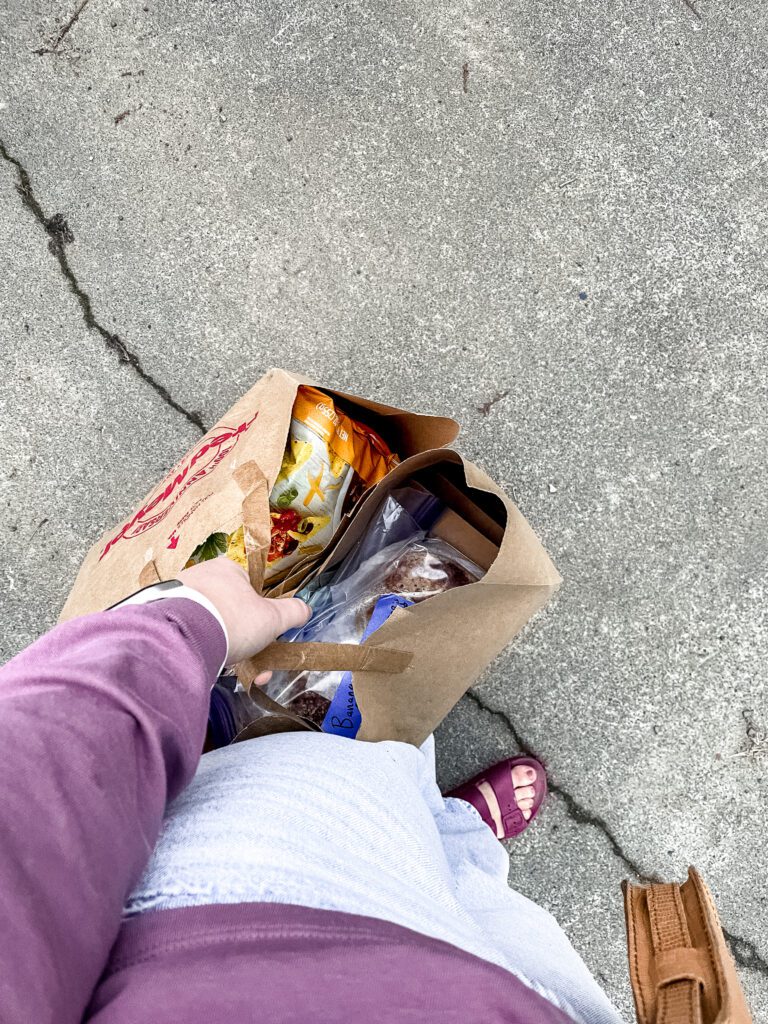 You want to bring someone a meal!
Basic Meal Train Etiquette:
What to make
Don't ask them what they want.
Hopefully, the meal train description includes ideas of their favorite meals and any foods they dislike. If they are at the point of overwhelm where they need community support, they likely don't have the brain space to talk to every person about what they feel like for dinner. It's hard enough for most of us to answer that question on an average day. Follow their dietary restrictions and give them whatever sounds good to you.
Follow dietary restriction requests.
Even if you know the recipients incredibly well, hard times can sometimes cause an adjustment to eating habits. An illness might require someone to cut out certain foods. A new mom might be unable to eat certain foods due to a baby's needs. It's pretty unfortunate meal train etiquette to drop off a meal that the new parents, family or person can't eat.
Let them know what you are bringing.
If they are using a Meal Train, Care Calendar, Lotsahelpinghands, or any other site, mark what you are making in the software. The recipient knows what to expect, but it also helps other gifters ensure there aren't repeat meals. No one wants pasta bake three nights in a row.
Provide all the components you intend for the meal to have.
If you bring tacos, don't assume they have cheese or salads. Make sure to include everything they will need.
If you have to cancel your spot, give multiple days' notice.
People depend on these meals. If they are sick or stuck at home, it can be quite difficult to find someone else to help them find dinner or feed themselves. It's poor meal train etiquette to send a text the day of. Try to cancel with plenty of notice.
Cooking + Packaging
Do all the assembly.
Things should be dump-and-go. Nothing should require more than 1-2 quick, easy, mindless steps.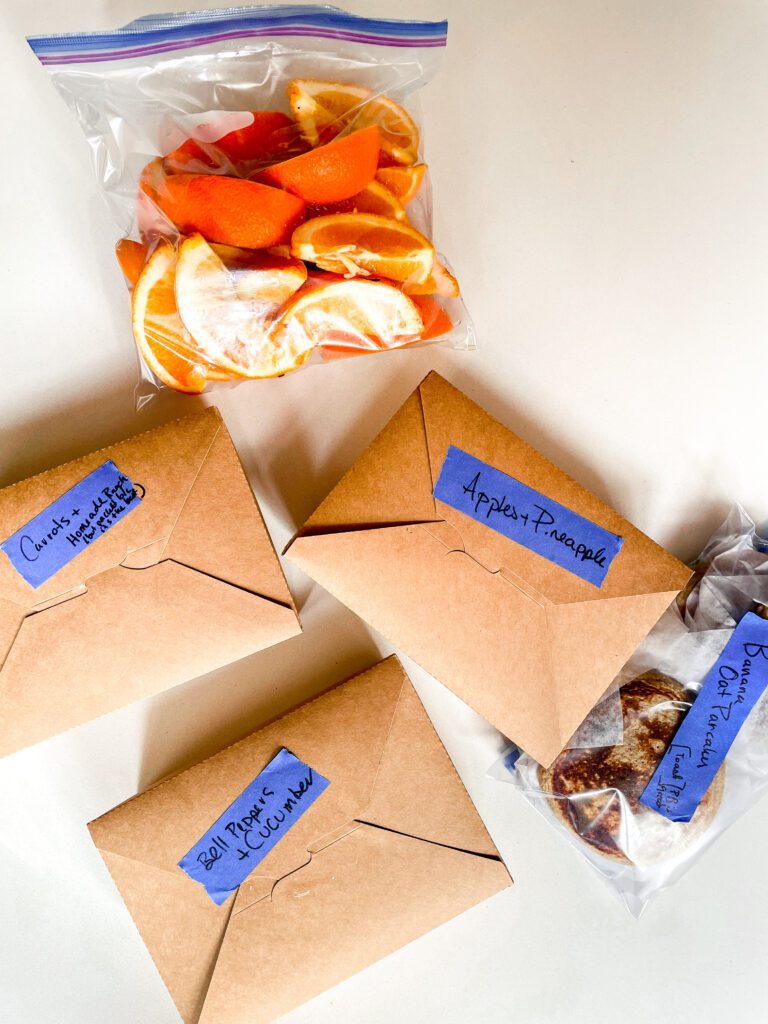 Disposable containers only, please.
Don't force the family to keep track of what needs to be returned. If you absolutely must send something in a container you want back, including a paper bag with your name written largely on it so that they can place the item in the bag and back out on their front porch. You are responsible for coming to collect your dish.
Provide a list of what is included + cooking instructions.
Include a note listing what you've included and any reheating instructions. I use blue painter's tape to mark each container with its contents and write any instructions on the box.
Cook something that lasts a few days in the fridge.
Most people will want to eat the meal as soon as possible, but things can come up, and it would be a shame for dinner to go to waste because it had to be eaten immediately.
Delivery
Deliver the meal at the requested time.
If you plan to deliver outside of that time frame, be sure to inform them and provide instructions on what needs to be refrigerated until dinner time.
Respect any requests about delivery.
If they've left a cooler outside, place the meal inside and head out.
Don't ring the doorbell or knock if they've asked you not to.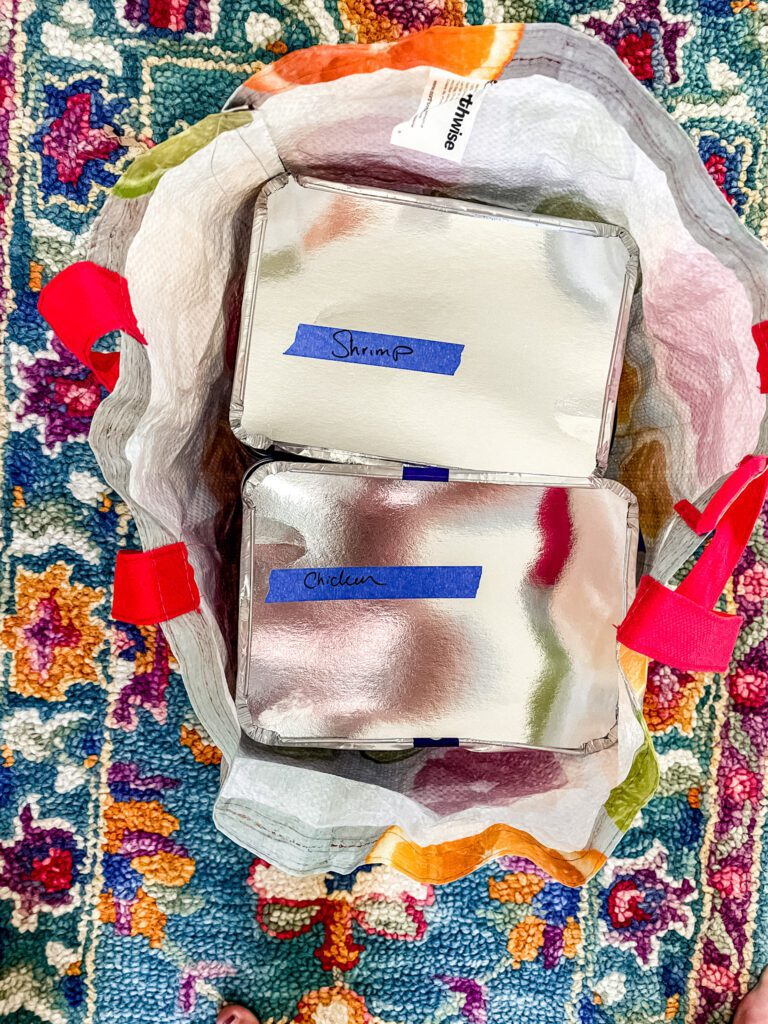 Expect to drop and go.
Remember that they might not be having a good day, and although you've made an effort to go drop off this meal, your loved ones might not be able to say hi.

Basic Meal Train Etiquette: If someone insists you come in, try limiting your stay to 10 minutes.
Looking for recipe ideas to gift to a friend?
I've got a full list at this link.
Next Level:
Do they have kids?
Stay away from any dishes that are spicy or adventurous. If you are up to it, include a couple of special items for the kids – squeeze fruit pouches, yogurts, popsicles, or kid-friendly beverages.
Cook freezer-friendly meals.
Pack the meals ready to put straight into the freezer. They can opt to eat the night you drop off or save those for another night they are struggling to make dinner happen.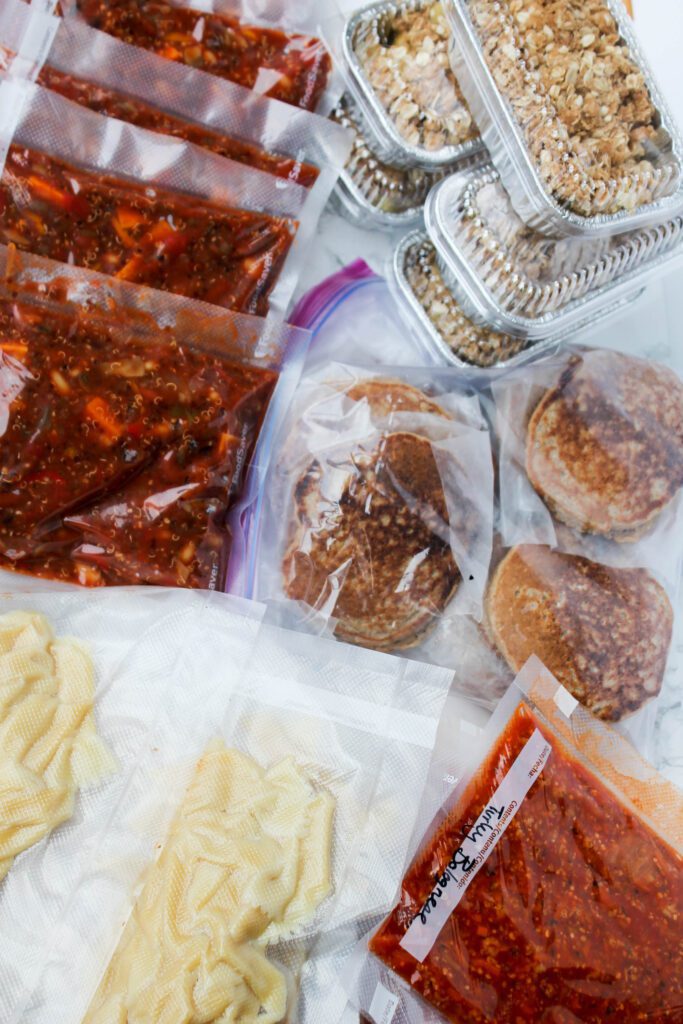 Cook something that has plenty of leftovers + a dish that keeps well.
Soups, casseroles, pasta, or roasted vegetables, and roasted chicken can be saved and eaten for days turning your meal delivery into multiple meals.
A LITTLE SOMETHING EXTRA
Throw in some Fresh Fruit and Veggies.
Many gifted foods are heavy, comfort-type foods. Consider including a salad and even some additional produce. Be sure that everything is washed, cut, and ready to go so that all they have to do is open the container and eat.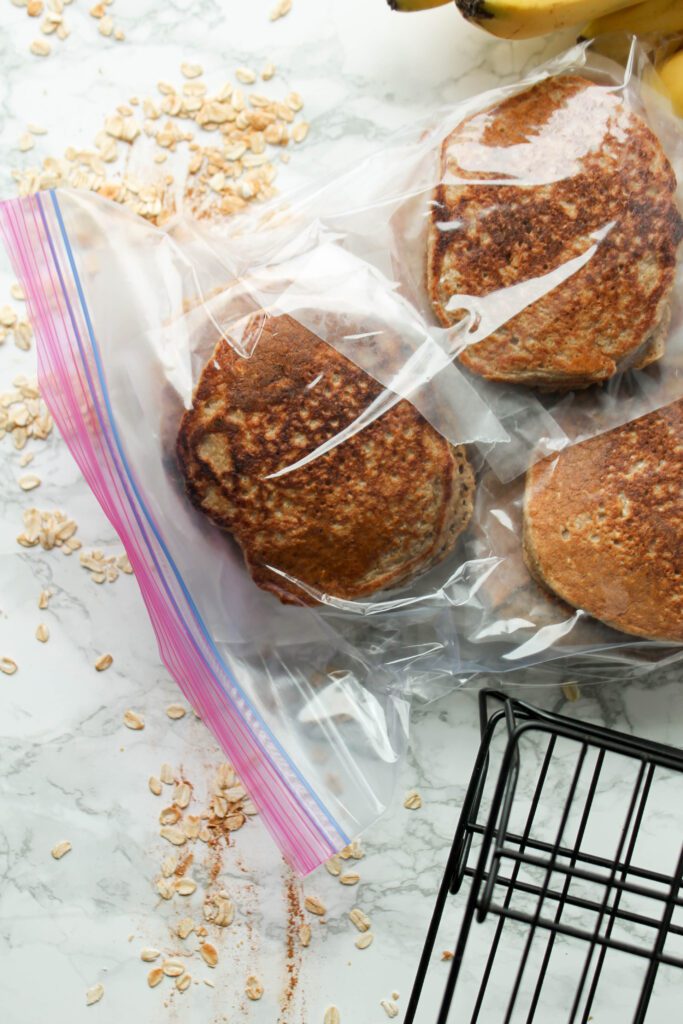 Breakfast
This is my personal favorite. Dinners are always taken care of, but no one ever talks about breakfast.
I love to include pancakes layered with wax paper so they can be pulled out individually. Slather with peanut butter for a hearty grab-and-go meal.
Other great ideas include muffins, breakfast sandwiches, burritos, or freezer waffles.

All of these can be frozen or stored in the fridge.
Drinks and Dessert
Whether store-bought or homemade, everyone loves a pint of ice cream, dozen cookies, or a few cupcakes. Drinks are another item that isn't commonly included. Do you know someone who loves something in particular? Pack one of those along. They likely don't have the time to get out and pick up that favorite beverage and would be delighted to see it in their bag. A gallon of milk or juice is also a thoughtful touch, especially if they have kids at home.
Remember:
Small actions add up.
No action is too insignificant in someone's hardest times.
You bring value to your friendships and community.
Looking for more about meal trains as community care?
I am finalizing posts about:
How to set up a Meal Train
Meal Train wording examples
My favorite recipes and meal ideas