We've all been to a Friendsgiving that doesn't have a Friendsgiving Sign Up Sheet. You know what I am talking about – the ones where you hear, "Oh… S + J also brought sweet potato casseroles" as you carry yours over to the buffet table and set it next to two nearly identical-looking dishes covered in marshmallows.
Even though I designed this signup sheet for Friendsgiving, you can use it for your Thanksgiving potluck, Halloween potluck, or any get-together.
Don't let my ideal menu at the end of this post scare you. Friendsgiving is usually a potluck, a community-focused event where everyone contributes.
HOST A
STRESS-FREE FRIENDSGIVING.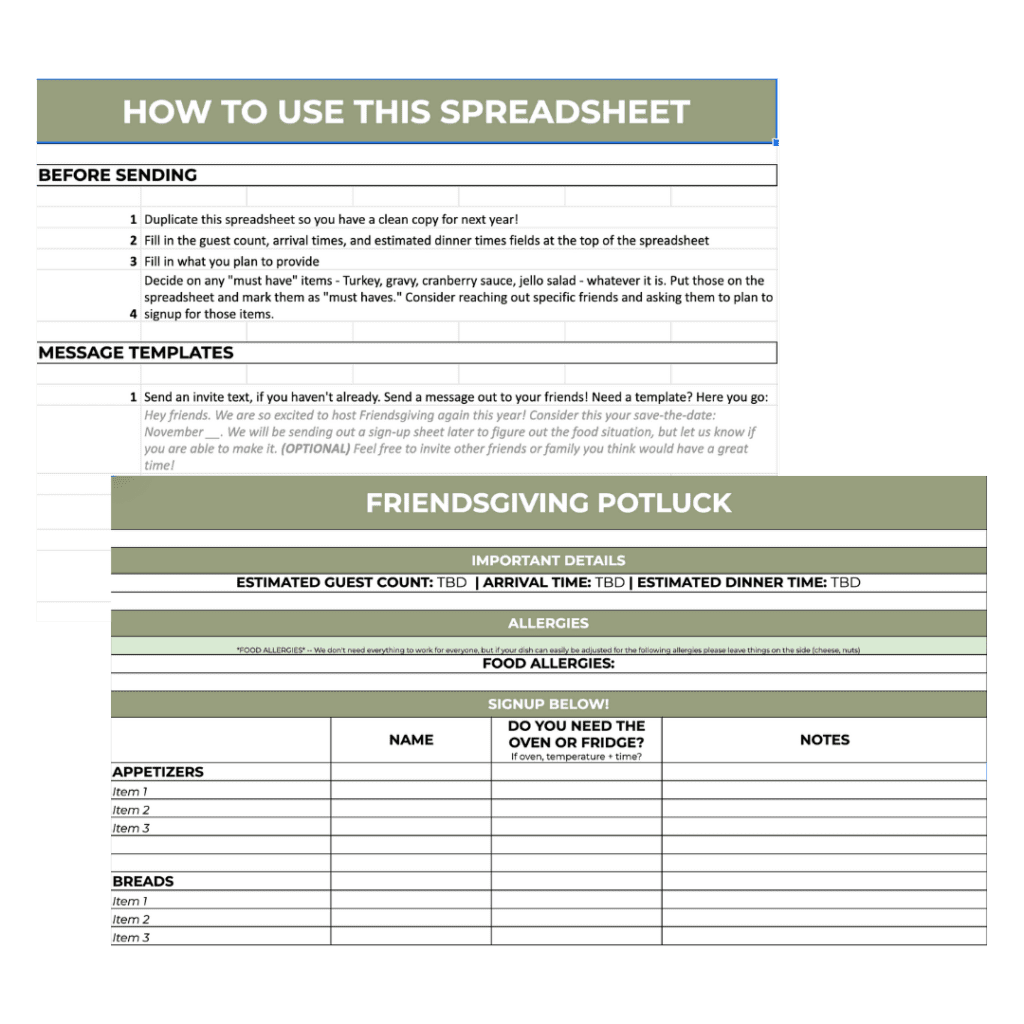 GET ORGANIZED WITH A
CUSTOMIZABLE POTLUCK SIGNUP SHEET.
A complete signup sheet for your next Friendsgiving (but really this works for any potluck). Send out in an email or a text and you're done!
Friendsgiving doesn't need to be a big ordeal. No need to have it be the center of your to-do list for weeks.
With that being said, there does need to be one or two people that take on the planning for a successful Friendsgiving. Someone to set up the date so everyone can get it on their calendar, determine the location, coordinate the google sheets, etc.
Being the organizer doesn't need to be difficult with the free template I've created!
Download the free google sign up sheet templates, read through my tips, and you will receive compliments about being the best Friendsgiving planner of all time. No need to tell them it took you less than 30 minutes to organize.
More info about How to Throw Friendsgiving here.
Ways to "DO LESS" when it comes to hosting Friendsgiving.
Delegate, Delegate, Delegate.
I vividly remember my mom hosting back-to-back holidays as a kid. We'd finish up one party and then have to all chip in to do a complete reset. There's a lot of pressure to "do it all."
Why are we doing this to ourselves?
Delegating is something many people struggle with in general, but for some reason, it seems like the standard for holiday delegation is "you host this year, and I'll host next year."
Can we please all stop doing this?!
Instead, know that being the host means providing space for people to gather. From there, you can outsource everything else. There are multiple jobs when it comes to throwing a get-together. Remove some from the equation, or ask friends to chip in. Then when they host next year, return the favor.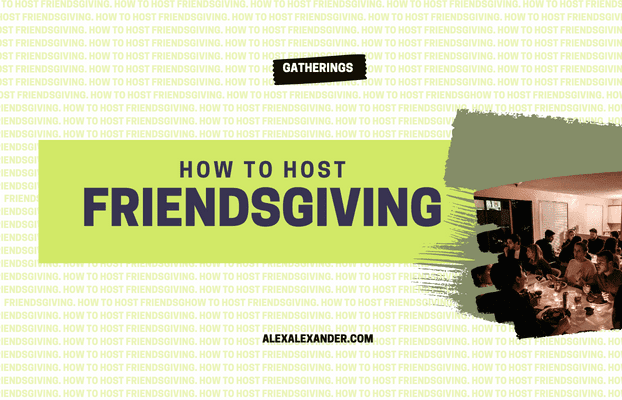 I believe there are six roles when you throw a party::
Host – Providing the space
Organizer – Making invites, tracking the spreadsheet
Food — Either cooking, purchasing, or organizing food
Decorating – Setting the table, decor, banners, a theme
Cleaning – The host is likely doing the cleaning beforehand, but that doesn't mean friends can't help clean up the trash, take out the garbage, pile all the dishes in the sink, and load and start the first load in the dishwasher.
Initiator – The most crucial role! Without this role, you'd never have a get-together.
Either split the roles out or cut things that aren't necessary.
Be sure to ask friends to fill roles that are their strength/interest and offer to do the same for them the next time they host.
HOSTING A PARTY INVOLVES
6 ROLES.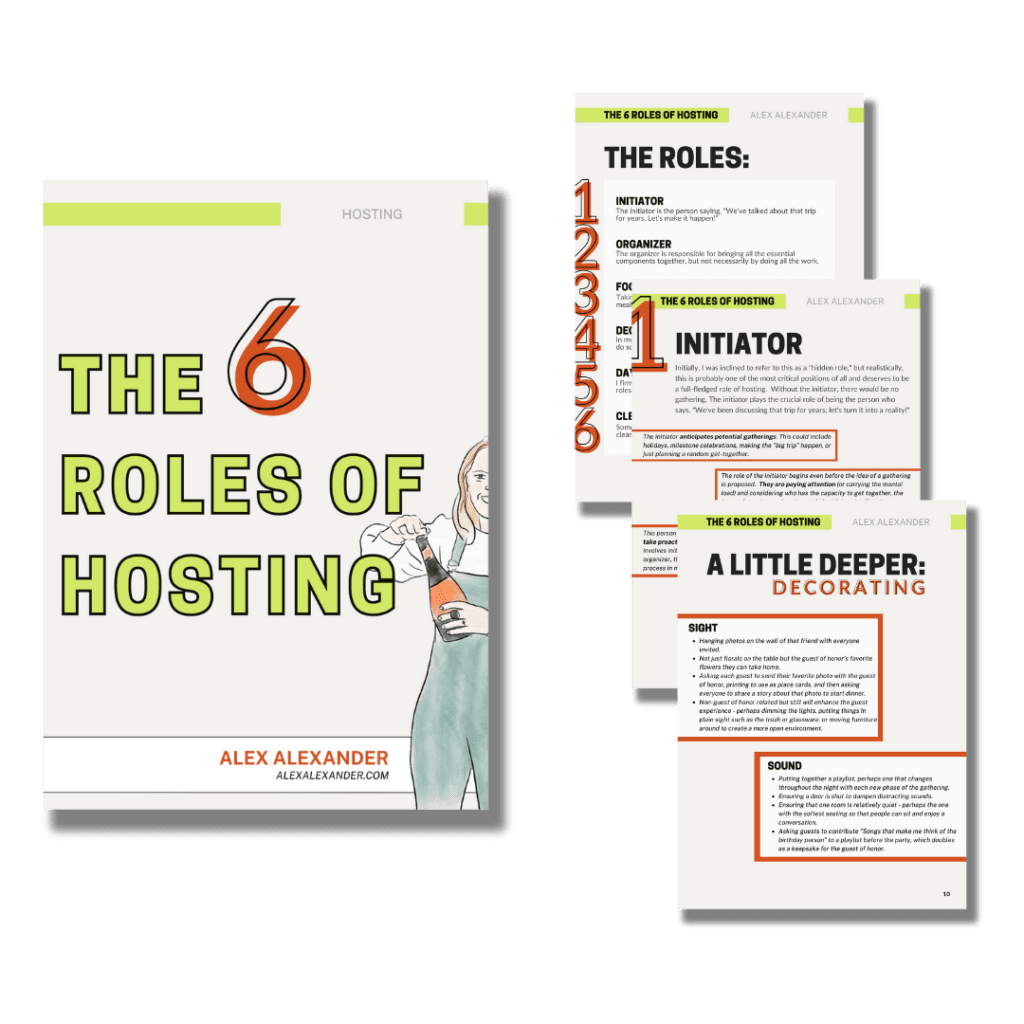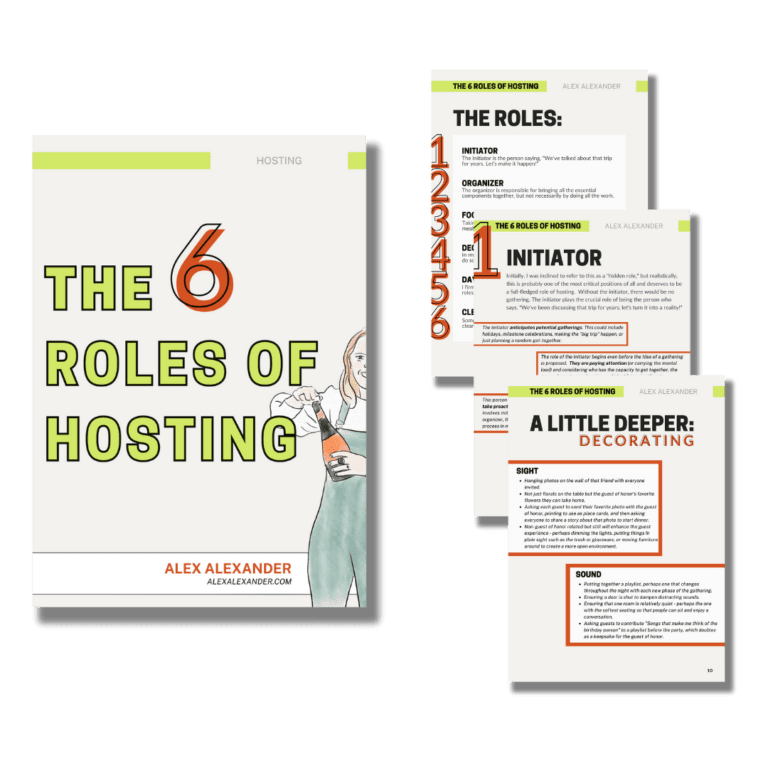 stop doing it all.
Start hosting with ease.
Create more connection with your friends and family at your next gathering using the tips in this guide. Learn how to delegate the 6 roles of hosting and feel confident in your ability to throw a successful, stress-free gathering.
Use the Friendsgiving Potluck Sign Up Sheet
Some people prefer to send this out and forget about it. They upload it in the Friendsgiving sign up sheet google sheets into Google Docs and send out the link.
I prefer to make sure that all the "staple" dishes are covered first, so I ask specific friends to bring specific dishes before sending the menu signup sheet out to all the guests.
I pick which friends to ask based on what certain friends like to cook or don't like to cook.
AND I reach out based on any dishes friends traditionally bring or have a great family recipe.
I'll ask friends who love to cook to bring the more complicated dishes and friends who don't like to cook to bring a salad, rolls, drinks, ice, etc.
For example:
"I want to make sure we have the basics. Would you be willing to sign up for mashed potatoes, dressing, cranberry sauce, or pumpkin pie? It looks like we will have ten people."
Make sure to also sign yourself up in the Friendsgiving sign up sheet if you are going to be providing any dishes.
Once I have all the must-have dishes covered, I let everyone else signup for whatever they'd like.
Sometimes I even include the roles on there – including a space or two for friends to volunteer for cleanup or perhaps a slot for picking up the ice. This way, everyone can contribute even if they aren't the best cooks, are on a budget, or would typically decline the invite because they don't have the time to make a dish.
What if people ask to bring something that has been claimed?
I am just honest with them.
"Suzy already volunteered to bring sweet potatoes. Normal mashed potatoes and vegetable side dishes are available. Interested in either of those?"
Do you have fridge + oven space?
So many sources you will read say, "Never, ever bring a dish that needs to be reheated to a potluck."
I know that oven space can be stressful, but there is that window between when the turkey comes out, and everyone sits at the table that is about 45 minutes. There's time for people to reheat dishes.
Tell everyone how much space will be available in the oven and inform everyone of the temperature to which you will set the oven. Include both of these on the Friendsgiving Sign Up Sheet.
Read more about this in How to Host Friendsgiving.
What I might send::
"Do you need to reheat/cook your dish? There will be roughly 1 hour after the turkey comes out before dinner. I plan to have the oven at 350 degrees, and it would need to take up less than 1/4 of the oven. Let me know if you need it and, if so, how long!"
host a Stress-Free Friendsgiving.
Get organized with a
customizable potluck signup sheet.
Here's my ideal Friendsgiving Potluck Menu:
Turkey
Gravy
Mashed Potatoes
Sweet Potatoes
Rolls
Vegetable #1
Vegetable #2
Hearty Salad
Cranberry Sauce
Appetizers
Dessert
Alcoholic Beverages – Wine, Beer, Spirits
Non-Alcoholic Beverages
Are you going to host a Friendsgiving this year?
What are your favorite traditions? Did you use the Friendsgiving Potluck Sign Up Sheet?

PODCAST EPISODE! Want to host stress-free? Listen to the episode.

Share below in the comments! I'd love to hear.