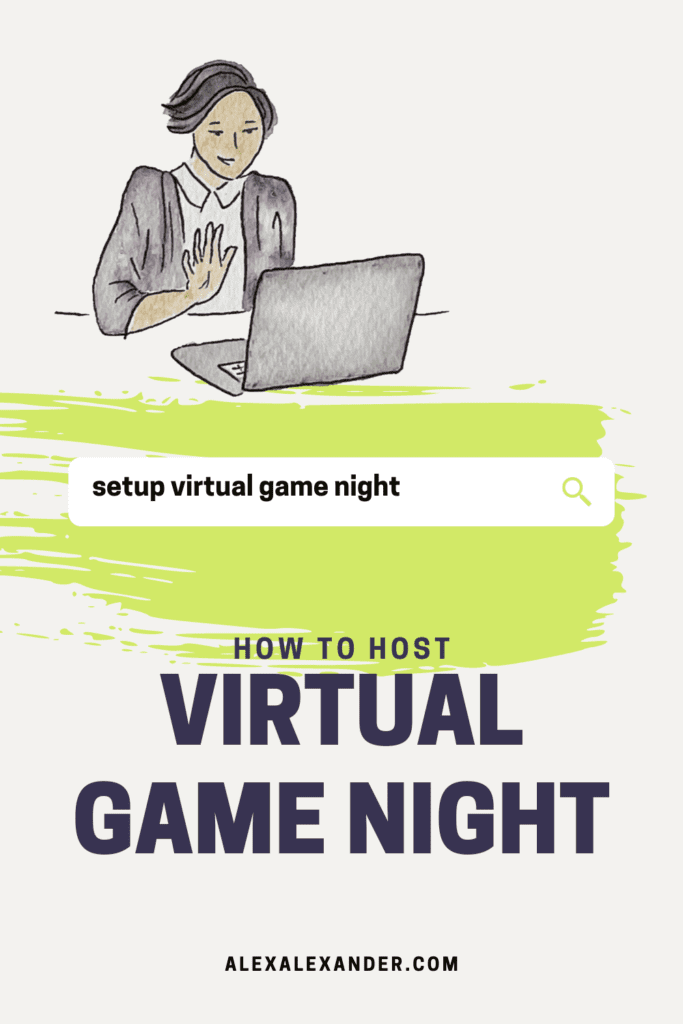 Virtual game night, anyone?
The last couple of years have taught me dozens of lessons, but one of the big ones is that we have more ways to connect with loved ones that live far away than I thought.
I now look back on baby showers I could have hosted virtually or Saturday nights I could have spent out with friends online instead of binge-watching New girl….again.
Nothing I can do about those now, but I can utilize virtual options moving forward, including hosting virtual game nights to connect with friends living far away.
Why do Virtual Gatherings Matter?
It's common to schedule calls with friends or facetime dates, but sharing an activity is a more impactful way to spend time together.
Read more in my ROOTS 101 post.
Some reasons you might want to host a virtual game night:
virtual team building
connect with families on the holidays
ladies night
reconnecting with old friends
family virtual games night
Host a game night birthday party
A couple of other creative reasons to host a virtual game night
Plan a virtual game night to connect with friends who have a new baby, are caring for a sick relative, or have an illness themselves.
These friends might not be able to go out on a Saturday night, but that doesn't mean you can't hang out with them. Connecting virtually gives them more flexibility.
Plan a last-minute game night!
If you have friends that live far away, send out a message telling them to hop onto a zoom game night. Everyone can hang out in their sweatpants. No one has to worry about who the DD is.
Connect with family on the holidays.
End the night with one round of an online game virtually or play some bingo.
Working remotely?
Schedule a monthly lunch game. I know that seems silly, but working remotely makes it hard to connect with co-workers about anything besides work. If a lunchtime game of Exploding Kittens doesn't sound like it will be a winner with your team, consider playing a virtual game on a team meeting everyone in a while. 15 minutes of catchphrase (set up instructions here) will lighten the mood before diving into your Monday Stand-up.
Hosting a party involves 6 roles.
Stop doing it all.
Start hosting with ease.
Some virtual online games you can play:
murder mystery
scavenger hunts
trivia
bingo
Catch phrase is also a fun virtual game! Find out how to play here.
Check out my top recommendations for online game night ideas in my post: 12 Game ideas for Online Game Night with Friends.
How to Host a Virtual Game Night
Before Virtual Game Night
PICK A GAME YOU CAN PLAY WITH FRIENDS ONLINE
There are lots of games you can play with friends online. I'd suggest choosing a game before you start throwing out invites because the game you select might dictate the number of people participating, just like when you are playing board games in person.
Most virtual games allow for 2-8 players, although some escape rooms allow groups to compete against each other. You can have 24+ players for some of the game ideas — excellent team building activities or virtual company parties.
Find more virtual game night ideas here.
PICK A TIME + VIDEO CONFERENCING PLATFORM
There are strong preferences on the video platform if you take game night online.
Zoom is great but has a time limit for many so a zoom game might not be the best choice for everyone.
Facetime can work if everyone has apple products.
Google Meet is my favorite and makes it easy to host large groups.
Facebook Messenger has made a lot of upgrades lately.
There's also Houseparty, Skype, and WhatsApp.
Choose whatever is easiest for your group.
Just ensure that the platform can accommodate your group size and won't cut you off after an hour of playing.
SEND THE INVITE
Include the time, games (or options), and video link.
Remind friends that being virtual creates flexibility and makes it easy for people to join and leave as needed. Even if friends can only pop on for a couple of rounds or say Hi, encourage them to join!
During Game Night
Ok, so a successful virtual online game night requires someone to be the ONLINE GAME HOST. I don't know if that is you, or someone else in the group, but a successful virtual game night will have someone taking the lead. That means helping friends get set up, controlling the flow, making sure people have time to connect, and keeping things moving.
Leave time for questions.
As friends join, they might need help getting the game set up on their computer, figuring out how to share their screen, getting their lighting right, etc.
Allow for a little bit of time before you jump into the games for everyone to get set up.
BIG GROUP? BE A LEADER
If you have a large group on the call [8+ people], I'd suggest taking the lead and setting some guidelines. Here are some pretty common ones.
Mute yourself if you are having a side conversation or other things in the background.
Instead of clapping, give some spirit hands.
If you are having a side conversation, consider using the chatbox.
If you are giving instructions– the web address of the game, for example, be sure to type it in the chatbox.
Mute other notifications that have sound on your computer. No one needs to hear your group chat going off every few minutes.
GIVE SOME TIME FOR EVERYONE TO CHECK-IN
Suggest that everyone go around — How are they doing this week? What is new? Any fun announcements? Everyone can get in on questions and conversation, but make it a pass the virtual talking-stick kind of situation to feel included.
HOSTING A PARTY INVOLVES
6 ROLES.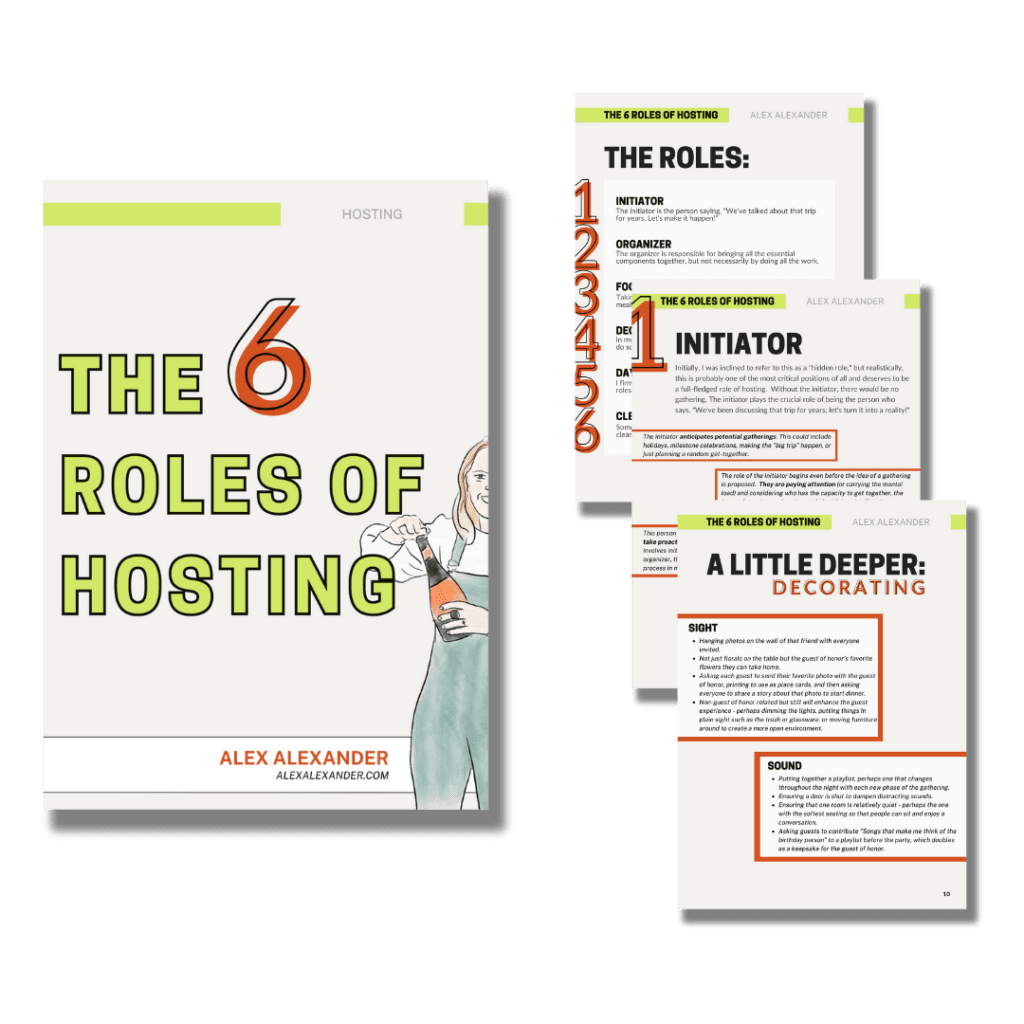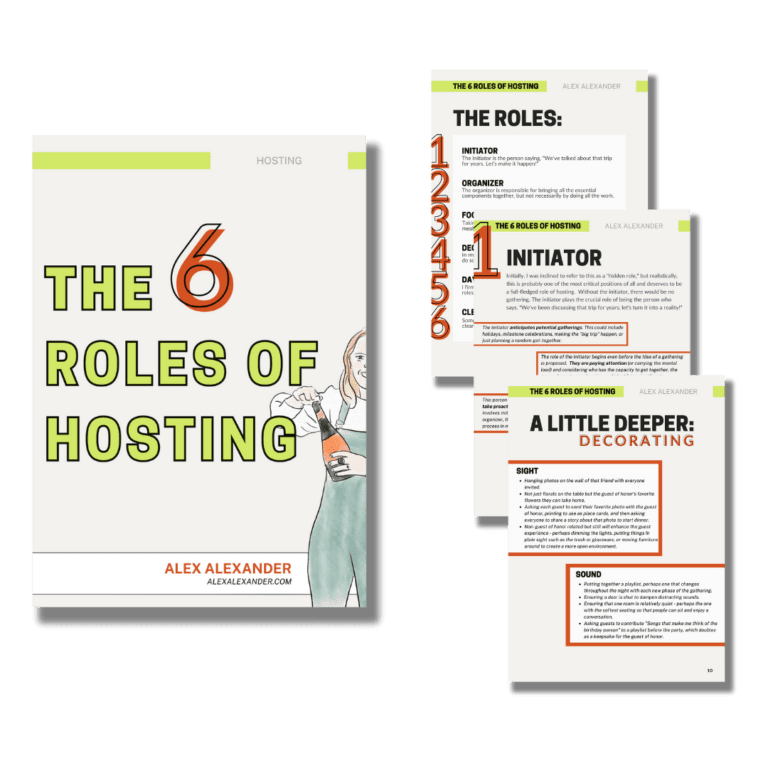 stop doing it all.
Start hosting with ease.
Create more connection with your friends and family at your next gathering using the tips in this guide. Learn how to delegate the 6 roles of hosting and feel confident in your ability to throw a successful, stress-free gathering.
CONSIDER THE FEATURES OF THE VIDEO CHAT
SCREENSHARE
Most video chats have a screen share feature that will make many games you can play with friends online easier.
As I mentioned above, this can be super useful for the host to set up one device to screen share the gameplay. Put this device on mute. Use a second device to play along + participate.
BREAKOUT ROOMS
Zoom has this feature, and I am not sure about others. You can create breakout rooms!
Here is a tutorial on how the host can do this.
Breakout rooms are super helpful if you have a larger group to break into smaller groups, similar to what you would do at a party.
Come back to the main group and then break out to another group.
It seems silly, but if you are on a call with 8+ people and not playing a game, this feature is a lifesaver.
The host does have to do quite a bit more work if you use breakout rooms to approve people going in and out of rooms, but it is doable.
Most importantly – Start Playing + Have Fun!
I know it's not quite the same as sitting next to each other in person, but this is the next best thing. You can make memories, share, laugh, connect, and know you spent some quality time together.
PODCAST EPISODE! Listen to an episode where I share all my tips and tricks for hosting a stress-free gathering (even a virtual one). Listen here.
Frequently Asked Questions
Are any of these drinking games?
You can turn pretty much any game into a drinking game. Get creative.
Are there classic board games you can play online?
I think we might all have different games that are classic board games. This post has many classic party games.
Monopoly, Settlers of Catan, Uno, Scattegories, Chess, and Risk are some other classic board games available online.
Any game night tips?
Consider creating additional shared experiences.
Send everyone a drink recipe.
Encourage everyone to cook something similar.
Send out a "wine of the night" and suggest everyone enjoys that together
Share a playlist for everyone to listen to in the background.
Sharing something tangible from afar, especially something that activates your sense, will make you feel even more connected.
What is virtual game night?
Virtual game night is a great way to connect with friends, coworkers, or family. You can play for a special occasion such as a birthday or holiday party or play one time with some college friends. Potentially consider setting up recurring virtual game night plans.
How to do Virtual Game Night with friends?
Check out my step-by-step instructions above!
How to do Virtual game night on zoom?
Planning a zoom game night? Zoom is an excellent platform for virtual game nights. Pick a game + send out a zoom link to friends. Some games require you to set up a screen share, and others need everyone to pull up the game on their computer. Take a look at my tips above about how to make sure everyone shares, how to handle large groups, what games to play for team-building activities, and more.
You can also find my 12 Favorite Virtual Game Ideas here.
Are there any virtual game night apps?
Yes! Check out Psych!, The Selfie Game, Jackbox TV, Read the Room and Heads Up or read the full list on this post.
Is there a virtual game night website?
There's no one website that has all the games. However, there are lots of virtual game night browser games. I've listed tons of them here. You need to utilize one of the websites and a video platform.
Best Games for a virtual game night?
Find a bunch of free virtual game night ideas here.
Monopoly, Settlers of Catan, Uno, Scattegories, Chess, and Risk are some other classic board games available online.
If you used this blog post to host an online game night, I'd love to hear about it!
What did you play? Will you host an online game night again?