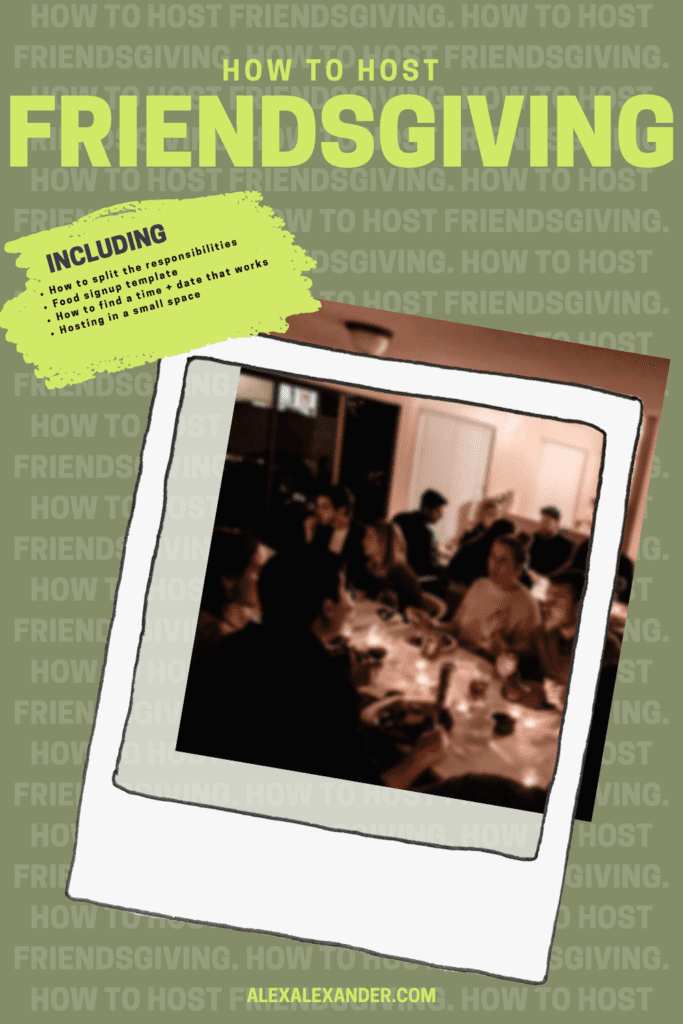 "How to Host Friendsgiving?" you ask. Well, I have hosted many Friendsgivings + Thanksgivings at this point. I have probably roasted 30 turkeys, made hundreds of pounds of mashed potatoes, and decorated, organized, and hosted.
What is Friendsgiving?
It's a get-together, party, shindig that is usually thrown sometime between November 1st-Mid January. I've also heard of people throwing a mid-year, summer Friendsgiving since that time of year is less busy.
Anyways, Friendsgiving is normally friends getting together to share a meal. Sometimes it's the same dishes you'd find at a traditional Thanksgiving; sometimes, it's themed and centers around entirely different food.
Normally there are some games, maybe a few drinks.
Hopefully, there will be a moment of gratitude for the people in your life or the growth over the past year.
You can make Friendsgiving as casual or formal as you want.
Some people even opt to have Friendsgiving out at a nice restaurant or to skip the meal in favor of an activity such as a hike, a bonfire, or a camping trip.
So if you are searching for an article about "How to host the best Friendsgiving?"
I want to urge you that the best Friendsgiving is the one that brings you together with your people. Everything else is extra.
Hosting Friendsgiving can be easy if you let it.
Your friends expect to chip in, contribute, lend a hand, and partake in all the parts. They likely need someone to get the ball rolling, organize some of the details, and then everyone will pitch in.
I believe there are SIX Roles for Hosting any gathering.
For Friendsgiving, they look like this:
Organizer
Sends the invite
Organizes picking a date + time
Managing the potluck spreadsheet (with the Go-To Food person)
Go-to Food Person
Deals with the turkey (or making the decision not to cook one)
Cooking any other dishes, they'd like
Manages the Friendsgiving Potluck Spreadsheet
Makes sure there aren't duplicate dishes
Answers questions about quantities to cook, lbs of ice to buy, or the number of bottles of wine to bring.
Oversees fridge space, oven space
Makes sure you have enough serving dishes + utensils
Fills in any gaps of missing must-have dishes, either by cooking them, buying them, or asking a friend to make them
host a Stress-Free Friendsgiving.
Get organized with a
customizable potluck signup sheet.
Host
Opens up their home OR secures a different space
Tidies up before guests arrive.
Handles any logistics if you are hosting Friendsgiving at a rented/borrowed location
Greets everyone at the event
Makes introductions
Answers questions throughout the night
Set Up/ Decorator
Decides on seated vs. casual
Works with the host to make sure there are enough tables, chairs, plates, silverware, cups, etc.
Design the seating chart, if using one (could also be the organizer)
Decides on decor (check with the innovator for overlap)
Determines the flow — coats, beverages, seating
Moves furniture + sets up the space
Decorates! Sets the table! Adds any special touches.
Clean Up
Keep an eye on cleaning throughout the night so that the host can focus on being with the guests.
Pick up dishes and used glassware
Take out trash if it is full
Clean up after dinner
Rinse the dishes
Load the dishwasher + start the first load
Help move furniture back and send home borrowed items with friends.
innovator
Ask yourself, "What is the purpose of getting everyone together?" Answer that question and then brainstorm ways to achieve that purpose and highlight elements.
Fun: Games, karaoke to get everyone laughing, pull out old photos
Make Memories: Set up a photo booth. Record a few clips from the night and share them with everyone.
Gratitude: Ask everyone to write down what they are thankful for.
initiator
The person who says, "We should have a Friendsgiving." This role can be as simple as starting to take on the organizer role, or it could be just talking with a few friends and getting someone else to organize/host, and perhaps you are the person who handles the food or does all the cleanup.
Being the initiator is a crucial role, so I want to make sure and highlight that someone decided that a get-together would be fun, memorable, enjoyable, meaningful. Every group of friends needs a few initiators.
If you are mindful of splitting out these roles, you will have the most successful Friendsgiving yet.
Why?
No one will be burnt out.
No one is saddled with a mile-long to-do list.
No one will feel burdened.
Instead, everyone will look back and feel like they had a small piece of ownership in making this; hopefully, Friendsgiving turns into an annual get-together.
How to Host the Best Friendsgiving
BTW, and all these tips apply to Thanksgiving, too.
It all begins with the initiator. The initiator starts organizing or finds a friend who will take on being the organizer. Decide what role you want to take on to make Friendsgiving happen. Reach out to friends and see who will take on the other roles.
Now that you have the main roles filled, you can plan.
ORGANIZER
Pick the Date + Time.
Finding the date can be the most challenging part of hosting Friendsgiving (or any gathering). So often, people struggle to "find the perfect date."
You know, the date where everyone can attend.
Let that go. Life is full. We can't all make it to every gathering. Get rid of this pressure. It's not your fault if people can't make it.
With that being said, you might pick a date these three ways:
Arbitrarily pick the date + time that works for your schedule.
Ask the organizers what dates work for them and the one that works for everyone.
Narrow down the date options with the organizers and send a doodle poll to all guests. Include the few choices that work for the organizers. Whatever date gets the most votes is the final date!
Compile the guest list
Usually, when hosting Friendsgiving, the host gets to choose the entire guest list since they handle all the roles. However, I like to have all the organizers contribute to the guest list since we take a team approach.
Remember: Friendsgiving is a great way to meet new friends.
Send out the invite.
Be sure to include:
Date + Time
Location
Food Signup Sheet Link (You'll need this from the Go-To Food person).
Any open "roles."
Who to contact with questions
Best way to send the Friendsgiving invite?
Group Text
Depending on the number of people in the group text, this could be a lot of notifications. A group text can also be hard to track.
E-vite
If email is how you and your friends communicate, this is probably your best bet. E-vites make it easy to include all the details. Guests can RSVP without notifying everyone else. My favorite free options are Punchbowl and Evite.
Facebook Invite
Did I just age myself? Perhaps. Our friends were all about Facebook invites forever but haven't sent many recently.
I will say that logistically Facebook allows for RSVPs, event details, and the ability for guests to chat all in one place, but keeps all this communication out of everyone's inbox.
We post different threads for dietary restrictions, potluck signups, and more. There is just a lot of flexibility.
The Doodle Poll
Say Hello to our new favorite — Doodle!
Why?
You can send the poll link via text message or email.
No app is necessary.
There are different ways to set up the poll — Just Yes or NO, but also people can contribute options or vote for multiple options.
Handle any questions
Take the lead on questions, reminders, and communication. Pay attention to the other friend's communications to make sure all the details will work together.
Go-to Food Person
Your central role is to coordinate the food, obviously.
The Turkey
Either you are preparing the turkey, finding someone who will cook the turkey, or making the executive decision to forgo the turkey and do a sides-only Friendsgiving.
Ask the host if you can come over early to cook the turkey or decide to cook it ahead of time, carve, and serve cold.
Manage the Friendsgiving Sign Up Sheet
I'd suggest downloading my Friendsgiving Potluck Sign up Sheet.
Set up the Sign Up Sheet in Google Sheets with a shareable link.
Decide what you will be cooking, and enter it into the sign up sheet.
Determine the "must-have dishes." Fill them into the Friendsgiving Potluck Sign up Sheet.
Possibly reach out to certain friends and ask if they will bring those "must-have dishes" (mashed potatoes, gravy, dressing, etc.).
Decide if there is some sort of theme.
Make sure that you don't end up with multiples of the same dishes.
Manage the Fridge, Oven, Serving Dishes + Utensils
Let guests know what is available to them. Oven? Fridge? Crockpot? Instant Pot? Slow Cooker?
Make sure there is enough fridge space open.
Make sure there are enough serving dishes + utensils. If there aren't enough, chat with the friends doing Set up/Hosting about borrowing or buying some.
Logistics
Let everyone know the guest count (even if it is a range), so they can cook the proper amount.
Spread the word if there are any allergies.
Help friends brainstorm ways to accommodate if they can. The idea isn't for people to change their dishes to make everything allergy or restriction friendly. Instead, this is all about small changes.
Leave nuts off (or serving on the side) if there is a nut allergy.
Skip cheese on top of salad if someone doesn't eat dairy.
Set the crackers out on a separate plate from the dips for your GF friend (and even bring a GF cracker option too).
Ditch the bacon in the brussel sprouts for your vegan friend.
If there won't be allergy-friendly dishes, let that friend know so they can plan accordingly.
Help people by sharing any of your favorite Thanksgiving dinner recipes.
Host
Hosting at home?
Before the get-together, the host knows they must plan to tidy up their space.
Check-in with Set Up/ Decorator on what the room already has for tables, chairs, silverware, plates, etc.
Help find/buy/borrow anything the space needs.
Provide information to the organizer – Address, parking tips, etc.
Most of the host's work is during Friendsgiving, so check below.
Hosting at other space?
Work conference room, apartment common area, parents' house, local business
Find a space that fits the group.
Determine if there is a cost or if it is free
Determine the rules of the space
Do you need an alcohol permit? Usually, if you are hosting a party and there is alcohol, you need a local permit. They are $5. Worth checking on the regulations in your area.
Stay in contact with the space, fill out any contracts, and sign any deposit documents.
Set-up/Decorator
Check in with the host + food coordinator to make sure you have everything you need

The basics include tables, chairs, plates, silverware, cups, napkins, etc.
Real Plates or Paper/Plastic? Just make sure you have enough.
Tablecloths?
Extras? Cocktail shakers, pitchers, wine, or bottle openers?

Add what you are missing to the signup sheet.
Work with the host on the Flow
Decide on the decorations
Let's talk decorations
I like to decorate with simple place settings and candles and use the food as centerpieces. That is me, though. If you want to get into the decor, then ENJOY it. If you don't enjoy decorating, then LET IT GO.
As far as decorations go, use the necessities to decorate as much as possible. Then chat with the innovator (or take on the innovator role). Are there things that the innovator wants to add that could double as decorations?
For example –
A card at each place setting asking people what they are thankful for
A game
A photobooth
Consider the floorplan
This tip comes from my days as a wedding planner. Friend, consider your flow. Start with where the guests walk in the door. Where do their coats go? Their shoes? What's the path to their first drink and the appetizers? Will they be sitting or standing while waiting for dinner? Consider where they might be unclear or where they might get caught. Things don't need to be perfect, but you might be able to fix some of the gridlocks by doing small things.
Leave a closet open so people can see where their coat goes.
Move a small table closer to the door with drinks on it.
Set out glassware so that guests don't need to look through the cabinets.
Seated vs. Casual
We do a lot of VERY casual gatherings as friends at our house. The kind of get-togethers where everyone sits around on the floor to eat. You can 100% do that for Friendsgiving, don't let anyone tell you that you can't. Another casual option would be to set the food out on the kitchen counter as a buffet, and people can sit wherever they are able, which might be the floor. But, because we do so many casual get-togethers, I prefer to make Friendsgiving a seated affair. That's me. You do you. We plan a random assortment of folding tables and chairs with linens and all the food lining our big table. SIMPLE.
Cleaner
Your role is primarily the night of the party, so check below.
innovator
You are here to design the gathering from a connection/emotions standpoint. So often, we ask people to gather together just for the sake of gathering. Your job is to take it one step further.
Think about traditions to implement for Friendsgiving. Some ideas:
Ask out-of-town friends to send in photos from the past year and hang them on the wall.
Set up a donation jar, and ask friends to contribute anonymously. Use that money to make a group donation for the holiday season.
A donation jar that everyone anonymously contributes to, and then use the money to make a group donation for the holiday season.
Plan a guessing game. Everyone writes something serious + something silly each person is thankful for this past year. Read the silly answers out loud during dessert, + guess who wrote which one.
Plan karaoke or charades for the end of the evening. Everyone needs a laugh after a stressful year.
Set up a photo booth to ensure that there are photos from Friendsgiving for everyone to look back on.
DAY-OF RESPONSIBILITIES
Organizer
Be available for questions
Double-check with everyone about any last-minute needs
Go-to Food Person
Prepare your dishes
Answer any food-related questions about potluck items
Fill in any holes in the food spreadsheet
Coordinate the oven, fridge space, serving dishes, etc.
Make sure all the food makes it onto the table.
Host
Focus on being present.
Greet all the guests
Make introductions if people don't know each other.
Let people know where the drinks are, where the bathroom is, where to put their coats, etc.
Encourage guests to partake in any activities, photo booths, etc.
Set Up/ Decor
Arrive early enough to move furniture around, set up, and decorate.
Make sure there are enough plates, knives, forks, etc.
Chat with the other organizers about the flow. Where should a drink station be located? Where should coats go? Where will the food be served?
Set up any decorations you have!
innovator
Set up any activities, photo booths, etc.
Make sure to include everyone.
Help with connecting guests
Take the lead on any games, toasts, or special moments.
Clean Up
Pick up trash throughout the night
Take out trash throughout the night
Pay attention to used glassware, plates, etc., and take those to the kitchen.
Load the dishwasher as you go.
Run the first load of dishes
Help guests pack up leftovers and pack up any extras for the host's fridge.
Help move furniture back or send any borrowed items home with guests who brought them.
Some Helpful Tips::
Make lists + post them somewhere.
When guests ask, "Can I help with anything?" it is much easier to delegate if you already have these lists posted. You can just say, "Sure! Can you check what food items still need to go out on the table?"
If you keep it all in your brain, you will likely say "NO, I've got it" simply because figuring out what you need help with would require you to stop and think for a minute, and you don't feel like you have time for that.
Some lists to post:
A list of the food that needs to go out on the table

Seriously, list every dish that needs to go out

A list of any last-minute set-up items

Light candles on the table
See if the table needs to be set.

A checklist for people to check on throughout the night

Check on the bar, glassware, and ice; if needed, refill. Remind _ to put their items in the oven to warm up at 5:00 pm
Pull white wine out of the fridge if we are low.

A list of what needs to be pickup/moved at the end of the night.
When I was planning weddings full time, I used to do this for every event. It's what the pros are doing; why not do this at every gathering?
Create a Leftovers plan
Consider how you are sending home leftovers. You could ask friends to bring Tupperware.
Other great options —
Ziploc bags
Takeout boxes
I buy small disposable metal cooking trays in large quantities from the dollar store a few times a year to gift meals or send home leftovers.
And that concludes everything you need to plan a successful Friendsgiving!
I hope you now see that hosting Friendsgiving doesn't mean that you have to throw this party alone.
Are you hosting first Friendsgiving this year?
What questions do you have?
Do you have a longstanding Friendsgiving tradition? What parts are your favorite? What do you do differently?
Please share your tips, tricks, traditions, and thoughts in the comments!
I'd love to hear! – Alex