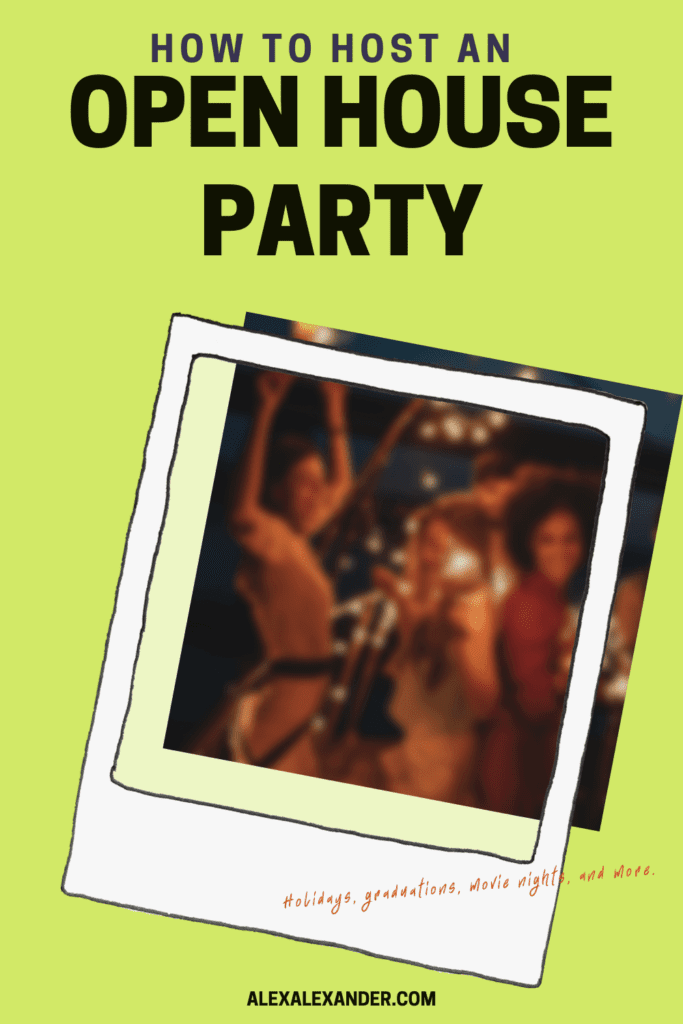 What is an Open House Party?
An open house party is a low-stress and low-impact get-together for hosts and guests.
A sort of "show up as you are, if you are able" gathering, possibly a recurring get-together on Sunday nights.
The goal of an open house party is to make people feel welcome and provide space to connect.
HOSTING A PARTY INVOLVES
6 ROLES.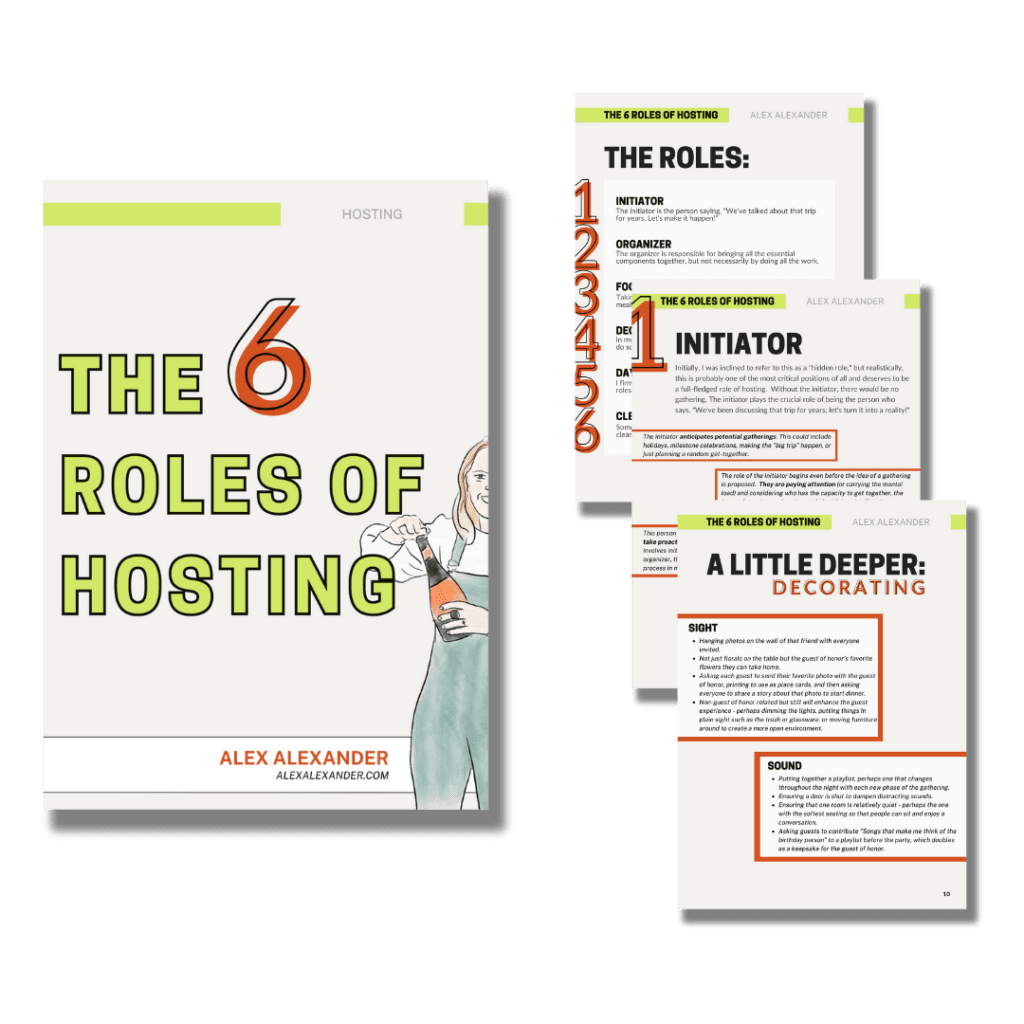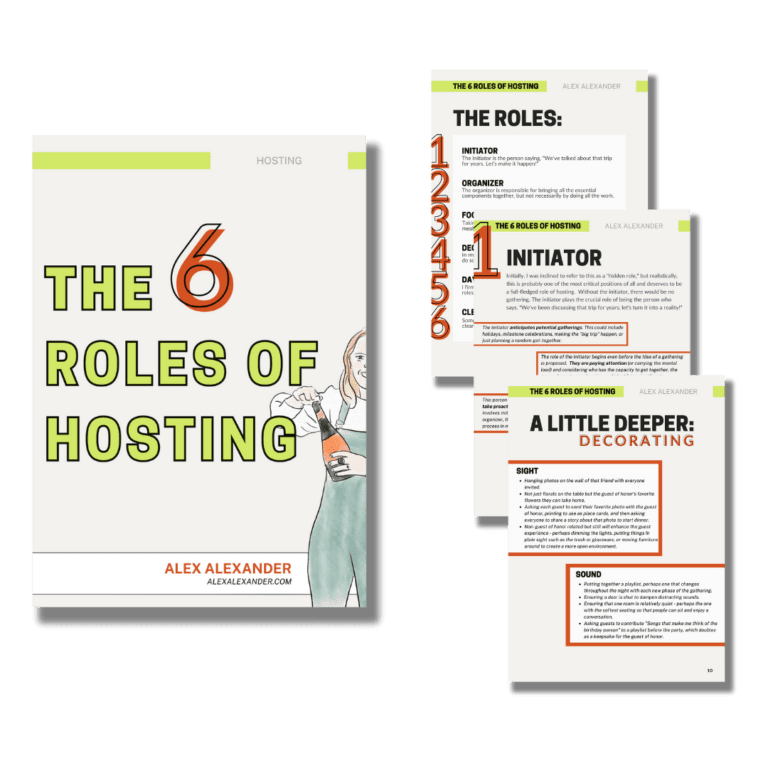 stop doing it all.
Start hosting with ease.
Create more connection with your friends and family at your next gathering using the tips in this guide. Learn how to delegate the 6 roles of hosting and feel confident in your ability to throw a successful, stress-free gathering.
A basic overview: "How to open house party"
Pick a date/time

No need to go back and forth with friends for availability. Just pick a time that works for you, and the friends that can make it this time will join.

Decide on the guest list.

Invite a group of friends, mix friends and family, or use this as a way for friends from various areas of your life to meet one another.

Decide if there will be an activity or if you are genuinely just creating space.

Find ideas for open house party games, themes, and activities here.

Make the invite!

Don't worry; I have examples of invites here.

Take care of any preparations for people to come over.

Keep reading for more information about that.

Mentally prepare yourself to enjoy the get-together.

Be present. Make some memories. Set an example for simpler ways to get-together with the people in your life.
Some things that make an open house party unique
Give a timeframe, not a start time.

Guests can come and go as they please in a set timeframe.

Tell guests that they don't need to RSVP
Offer beverages, but only offer food if it feels manageable.
You might offer guests the opportunity to bring someone -their significant other, another friend, or their kids.
Possibly offer a purpose for gathering or activity.
HOW TO HOST AN OPEN HOUSE PARTY
Focus on the goal or purpose of the gathering.
Why are you asking people to take the time to be together?
The purpose of an open house party might be:
To create an experience most people don't regularly get — feeling comfortable in someone else's home.
For people to feel welcome
Meet new people
Experience something different
Push yourself out of your comfort zone — hosting an open house party is an act of small intimacy.
An open house party is different than most parties we experience nowadays.
Most parties have a dress code; they are a big production and involve a million to-dos. No wonder people are hesitant to host and attend parties nowadays.
The environment you are trying to create when hosting an open house party is similar to when you hang out with your closest friends or family. You are now letting your friends, acquaintances, and neighbors in on that experience t00.
Brief Disclaimer:
BECAUSE this is not how people typically host, you must prepare that the attendance might be a small handful the first time.
PODCAST EPISODE: Listen to my episode on Hosting and my concept, "MVP Gatherings." Find the episode here.
In fact, I want to tell you that I have made an open house invite and had precisely zero friends show up.
The informality of this kind of get-together is outside the norm, making it uncomfortable for many people, Don't give up if no one shows up.
Save the soup you made for lunches that week, turn on a movie, and most importantly, don't take it personally. Instead — pat yourself on the back. You put yourself out there. You tried to do something new.
Just like trying anything else new, change takes time. People are still your friends; they just aren't used to spending time together in these ways.
Pick another date and send another invite. Change takes time, but it's worth it.
Why?
Why would you put yourself out there?
Why would you want to push what we are used to and offer an experience outside everyone's comfort zone?
Because — what we have been doing isn't working. People feel lonely, disconnected, shut off, and miss their people – it's a fact.
In 2017, former US Surgeon General Vivek Murthy called loneliness a public health "epidemic.
I don't need the surgeon general to tell me that. I talk to people who struggle with loneliness, community, or friendship daily.
The high standards we have to meet before we are willing to spend time with people — wearing the perfect outfit, cooking the perfect meal, having the perfect house — are stopping us from connecting.
Unnecessary work is abundant, which would be worthwhile if it was impactful, but for the most part, it's not.
The unnecessary work is so that we LOOK GOOD.
But WE aren't focusing on what looks good anymore.
We are focused on what FEELS GOOD.
PODCAST EPISODE: Listen to my episode "What is a Friend?" Find the episode here.
And what feels good?
Finding connection in our everyday life, and not that we can only connect after proving we are worthy OR on special occasions.
Honoring our simple friendships and our close friendships.
Changing the way we connect with our people.
Feel OK just to BE rather than need to be perfect.
Feeling like we belong.
Changing how you and your people connect and giving everyone permission to let go of the "shoulds."
Think about it. Normalizing open house get-togethers would make last-minute get-togethers more accessible. A text says, "House is open from 2-7 on Saturday. Hope to see you!" is much easier than the dreaded calendar comparison exchange and makes it much more likely we'll spend time with friends and loves ones.
Hosting a party involves 6 roles.
Stop doing it all.
Start hosting with ease.
HOW TO HOST AN OPEN HOUSE STYLE PARTY
When you decide to have people over
Decide on a date/time
Decide if there is an activity
Send the invite
The days before
Decide on beverages/food
Touch up your house if needed
The Day-of
Do a final pickup if necessary.

Might I suggest setting a timer for 10 minutes and when that goes off — stop cleaning. Let it be what it is.

Do some minor setup/ preparations.
Create a couple of stations for people to help themselves.

Set out beverages for guests to help themselves.

Having everything in sight makes people feel like all their needs are accessible and reinforces that this gathering is casual. You aren't there to serve people. Be a part of the gathering.
Furthermore, guests will help themselves if they can see what they need. If they have to ask where the glasses are or feel like you don't want them in the kitchen, that is a barrier to them taking care of their own needs and feeling comfortable in your home.

So, take things out of cabinets and set them on the counter — coffee, mugs, tea, milk, sugar, water glasses, and other beverages.

If you are offering food, set out the food and anything the guest needs to eat: spoons, bowls, and napkins.
Activities aren't necessary, but maybe set out some things to do.
If there isn't a central activity, pull a couple of games out of the closet and set them on the table, turn on the radio, or put a football game on in the background. Make it comfortable for people to relax, connect, sit, move about or play a game.
Read more about Open house party ideas here.
Party Time
Take a deep breath. Sit down for a second. Commit to being present.

Nothing spreads faster at a party than the host's mood. If you, as the host, are casual and relaxed, the guests will follow suit. Similarly, if you are stressed, flustered, and running around frantically, your guests will pick up on that. They will worry about how to help and if they are a burden. Focus on creating a positive + welcoming environment.
After the Party
Take a moment.

Give yourself a pat on the back or a moment of gratitude. YOU CREATED + OFFERED SPACE.

Consider any follow-up connections.

After the party, consider making any introductions/exchange of contact info (with permission) of anyone that seemed to connect.
Did someone mention a new favorite contractor, product, or restaurant? Follow up with that friend asking for the name, and share it with the group.

Finally, encourage anyone that attended and loved the experience to host their own.
Not that we've talked about hosting an open house party:
Are you going to host one? If not, what is holding you back?
Hosting simpler get-togethers like this is a foundational piece of the shift I am trying to create, so I am more than happy to discuss what is holding you back. Shoot me an email. DM with your questions. Leave me a voice message! Comment below and start a conversation.
If you do host an open house party, let me know how it goes!
What went well? What would you change?