One of the joys of having a community is having a network of people who can help in little ways when life feels overwhelming. Another joy is being a part of a community that can cumulatively shepherd someone through a hard time.
One of the ways to show up for someone is by cooking meals to take to someone.
However, there are many other ways to give aid: taking a vehicle to the mechanic, ringing someone up, completing and sending an application, or shopping for groceries. In essence, there is no shortage of ways to show support to the individuals we care about. So, what method do you plan on using to lend a helping hand?
There are plenty of ways to show support for the people we are close to — how do you show your care?
Benefits of Bringing a Meal to Someone
Supporting our loved ones through a big life change can come in many forms – from being a listening ear to lending a hand, from reminding them that they are not alone to running errands and even calling to check in.
To some, cooking a meal, packaging it up, and dropping it off might feel like a simple act. We are so comfortable cooking that it hardly feels like a burden, and those are exactly those of us that should be leaning into this way of showing up for the ones we love.
Undoubtedly, receiving a meal is a great comfort to people in the thick of a life transition. When someone is going through a big life change, they may be too busy or overwhelmed to think about food or cooking. Bringing a meal can be a great way to help them and let them know we are there for them.
The final thing I will say about bringing a meal is that it isn't overwhelming to the recipient, or at least doesn't have to be. People in crisis can feel overwhelmed at the outpouring of support or have difficulty letting someone help them. Keeping the actions simple, like delivering a single dinner, might be the difference between someone accepting help and not accepting help.
READ MORE: I have an entire post about how to pack up a meal train meal and some meal train etiquette to be mindful of. Read more here.
What to Consider When Bringing a Meal
When wanting to show your support for someone during a difficult time, many options exist beyond being the one to cook a meal. Take a moment to think about what your strengths are. Do you like to cook? If so, then go ahead! If not, what other skills do you have that could be useful?
Consider volunteering to deliver meals made by your cooking-savvy pals, or you can even offer to be a cleaning crew for someone else making food. Alternatively, you could always send your friend a delivery or grocery gift cardNo matter how you choose to help; it's sure to be greatly appreciated.
Alternatively, take the initiative and volunteer to coordinate a Meal Train, Care Calendar, or Lotsa Helping Hands account. Talk to them about dietary restrictions, how they want the meals delivered, and other details. Offer to be the coordinator for the entire meal train; this could be what your friends are looking for relief from.
Meal Train Ideas
Meal trains are a great way to organize meals for someone in need. A meal train allows friends and family to sign up to bring a meal at a certain time. This way, the recipient doesn't have to worry about making their meals or asking people to bring them food. Meal trains can also be a great way to get friends and family involved in the recipient's life change.
Meal trains can be organized online through Meal Train, Care Calendar, or Lotsa Helping Hands. These services make organizing meals easy and tracking who has signed up to bring what.
The Best Meals to Take Someone During a Big Life Change
When it comes to a great meal train meal, it is essential to consider all the recipient's requests. This is not the time to experiment with something out of the ordinary or push their boundaries, but rather to provide something that will bring comfort and that they will undoubtedly enjoy. Additionally, the meal should be delivered promptly and be a ful meal for the entire family.
I prefer to deliver meals that can be frozen if the family doesn't finish the entire meal.
Don't forget something fresh! Many meal-train recipients have endless pasta dishes, casseroles, and soups. Don't forget to include some fresh-cut fruits and vegetables, a salad, or some roasted vegetables.
Overall, creating quick, easy, comforting, and healthy meals is important. A meal can emphasize one of these categories more than the others, but bringing them all together into one dish is possible.
I'm giving away my secrets to
better friendships.
Are you the "cooking friend"?… I am.
You may have heard that it is customary to provide someone with a meal in the event of a major life event, such as a death in the family, a new baby, or a medical diagnosis, and this article will assist you with doing just that. Nonetheless, be aware that you can be a great friend and help out in ways other than bringing food.
We all have our strengths, and as my friends will tell you – I am the "cooking friend."
Not only am I the one to happily drop by with a meal, cook a meal for a friend of a friend, or host everyone for dinner. I am also the friend everyone texts with food-related questions or when they need recipe ideas.
I can't tell you the number of times I've received a message that says, "I need to take J+R a meal. Do you have any ideas?"
So I spent some time and put together this list.
The list below is the exact one I share with friends when they need ideas of what to make for themselves, for each other, and loved ones.
From quick and easy meals to healthy meals and everything in between, here are the best meals to take someone during a big life change.
PODCAST EPISODE! Navigating Big Life Changes with Friends. Listen here!
Below is My Personal List of Meal Train Ideas
Soups and Stews
Be sure to check in with the family about any dietary restrictions, especially if a nursing parent is involved. You might have known someone's dietary restrictions forever, but a new baby can bring on a new set of restrictions, such as needing to be dairy-free, gluten-free, limiting onions/garlic, and more.
Other Soup Lists I love: 30 Soup Recipes from Modern Proper, Feasting at Home Soups and Stews, and Pinch of Yum Soups
Rice Casserole / Rice Dish
Pasta / Pasta Sauces
Pasta or a pasta bake is a standard meal train item (and comfort food for most people!). Whether you cook components or the entire dish, it's quick and easy to gift someone. Pro Tip: You can actually freeze pre-cooked pasta. Also, if you are making something like spaghetti and meatballs, you might as well double the recipe and save half for yourself.
Pasta Bake
You can deliver baked pasta in a variety of ways (1) hot in a disposable metal casserole dish, (2) prepped but uncooked with cooking instructions on top, (3) Prepped and uncooked but in smaller disposable baking dishes so the recipient can freeze a few for later (4) pre-frozen in souper cubes for them to cook at a later time from frozen.
I love the lasagna roll-ups because they can easily be frozen on a cookie sheet and then cooked individually. Deliver them with a jar of sauce and a bag of mozzarella.
Meat
Send cooked pulled chicken or pork without sauce. They can add their sauce (BBQ, teriyaki, buffalo). You could also provide a bottle or two of sauce! Perhaps you buy a rotisserie chicken for them, or Costco sells packs of pre-pulled rotisserie chicken. Another option would be to cook chicken breasts or pork in a slow cooker/ Instant Pot and then shred, allowing them to cool them, and package up for friends.
Consider including a few packs of frozen rice or quinoa! Perhaps you include a box of greens and a bag of tortilla chips.
A protein, a grain, a bottle of sauce, and a few cut veggies can provide many meals all week.
You can eat sloppy joes on buns, but we often eat them on potatoes/sweet potatoes out of the freezer. Just wash the potato, poke a few holes, and microwave for 3-5 mins (depending on size). Mash the potato and top with warmed-up sloppy Joe mix for a quick lunch/ dinner.
Stir-fry
Don't forget to include some frozen rice packs! IMO – Stir fries are the perfect mix of healthy proteins and veggies, but also comfort food.
Casseroles
If you buy the Souper Cubes, freeze them like this
Burritos/Wraps/Sandwiches
Really you can put whatever you want in frozen burritos — roast veggies, quinoa, rice, beans (canned is great), and meat (rotisserie chicken tossed in taco seasoning is super fast). DON'T ADD – Sour cream, guacamole, or lettuce.
Meal Packs
I'd suggest making multiple meal packs (maybe 2-3 of the same dish), and cooking one serving for your friends to eat the evening of the meal delivery. Be sure to include side dishes such as a green salad or mashed potatoes (maybe both!).
They can eat one serving and put the other two in the freezer for another night.
Any recipe where you would just put it all in the crockpot, Instant Pot, or the oven, you can prep ahead. Just dump everything in the bag and freeze. Dump straight in the crockpot, Instant Pot, or oven. When cooked, the freezer packs either need additional time if cooking straight from frozen or can be defrosted in the refrigerator the night before and cooked using the normal directions.
Curries
Baked Potatoes
Turn a baked or sweet potato into a full meal with all the fixings.
Spaghetti Squash
Spaghetti squash?! Yes, this is one of my favorite ways to mix it up after a family might have had too many pasta nights. Cook a spaghetti squash, shred and mix it with sauces, cheese, meats, and other fillings. The recipients can easily bake them or freeze them for another night.
I freeze them in their skins. Pull the whole filled half of the squash out of the freezer and allow to defrost in the fridge overnight. Then bake or microwave.
Vegetarian
Cook a batch or two of beans for the family to use when topping bowls, salads, or eating with a spoon as a snack.
Breakfasts
Breakfast + Snacks are often forgotten when delivering meals, but they are some of the items I hear the most "Thank You"s for.
You can make any pancakes or waffles. Just cook, cool, layer with parchment paper, paper in zip locks, and freeze.
Salad
Salads can be a welcome addition to any meal train! When everyone is trying to prep meals, vegetables, and fresh produce can often be forgotten. Here are some of my favorite salads that hold up well for a few days.

You can dress beforehand if you use a hearty green such as kale or cabbage. Otherwise, pack the dressing in a container on the side!
Snacks
Don't forget about snacks! You can make some cookies or energy balls, but my tried-and-true tip is just chopped fruits and vegetables.
Yup, you read that right. I get RAVE reviews from new parents about washing, peeling, chopping, and prepping fruits and vegetables for them. Cut grapes into small sections and wash, chop strawberries, and cut oranges into small bites sized pieces, and peel and chop carrots or peppers.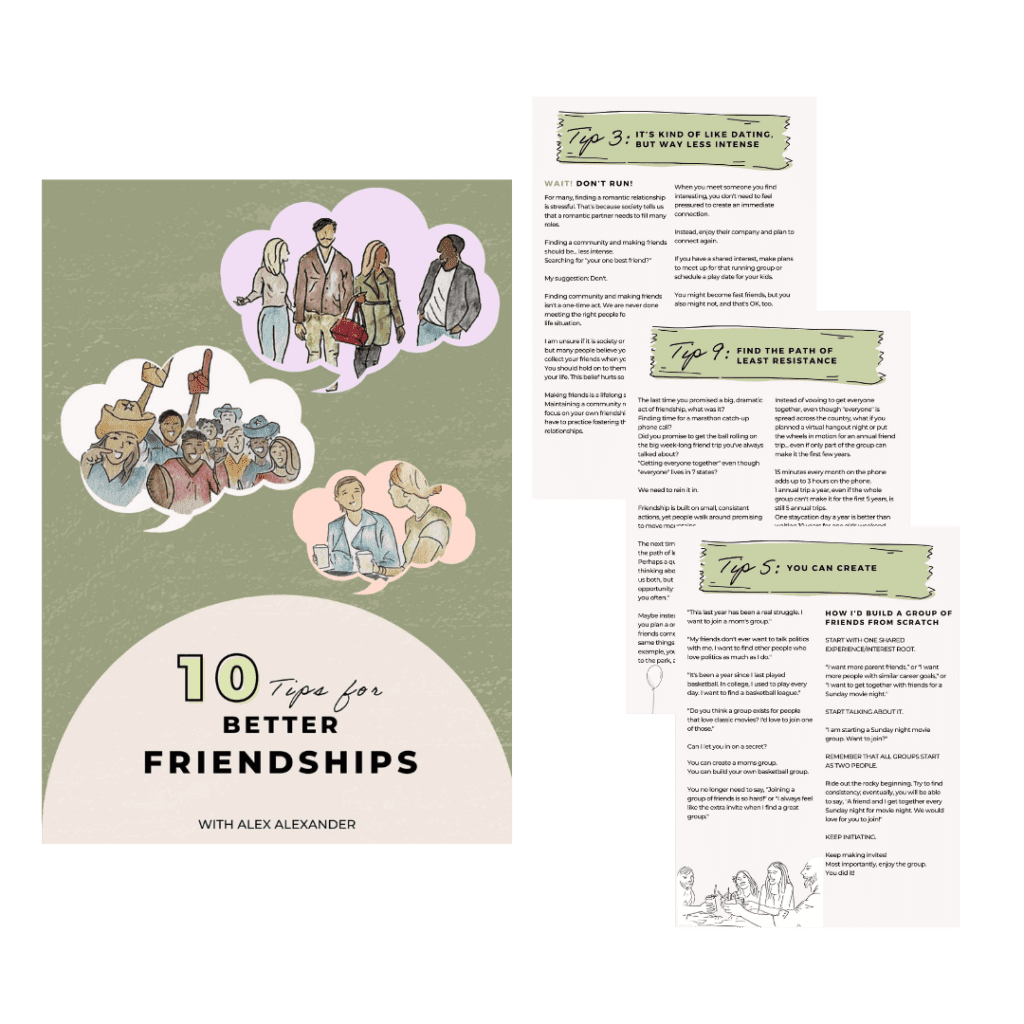 I AM GIVING AWAY MY SECRETS TO
BETTER FRIENDSHIPS.
Reinvigorate your friendships and learn how to create stronger ones by incorporating my Top 10 Tips into your life. BONUS! An exclusive look at my upcoming book. Want to bring more purpose and value to the relationships that matter to you? Download the guide now. 
Tips for Bringing a Meal
When bringing a meal to someone during a big life change, there are a few things to remember. First, ensuring the meal is properly packaged and labeled is important. This will help ensure the meal is safe to eat and can be easily reheated.
Additionally, include instructions for reheating and/or preparing the meal. This will make it easier for the recipient to enjoy the meal. Finally, make sure to include a card or note with the meal. This will make the gesture even more meaningful and show the recipient how much we care.
READ MORE: I have an entire post about how to pack up a meal train meal and some meal train etiquette to be mindful of. Read more here.
Conclusion
Every gesture, no matter how small, makes a difference. When people we care about need help, trying and tackling everything at once can be tempting. However, it's important to focus on what we can do best and get other people involved to help in their small ways.
Bringing a meal to a friend can be a major comfort, but there are many other ways to show your care. Whether it's joining a meal train, cooking, organizing, or doing something else that can help, the main thing is that you're making an effort. And it's easier for us to show up in a way that we can contribute in a meaningful way.
Listen to my podcast episode on How to Navigate Big Life Changes with Friends to learn more about how to be there for someone during a big life change.